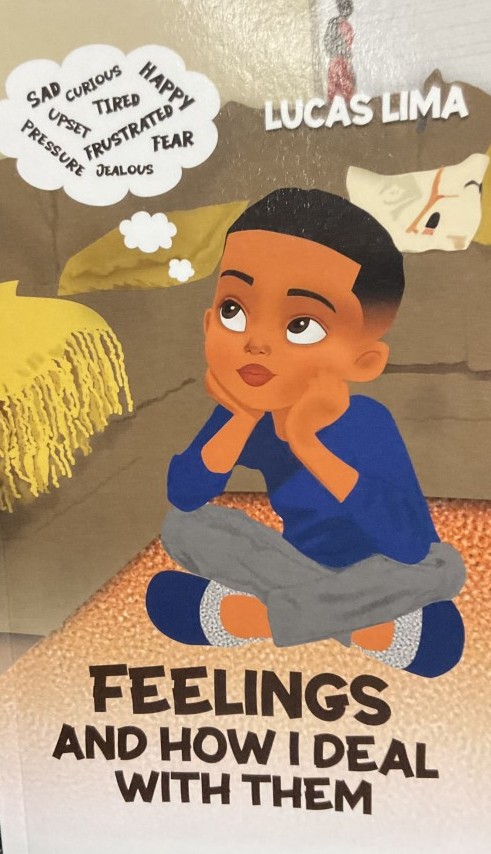 posted on 04 Aug 2022
Feelings and how I deal with them by Lucas Lima
It is always heartening to come across published books written by children and young people. This young author has clearly grown up to believe in his capacity to be creative and to be confident and articulate about describing his feelings.
There are already a number of books about this subject, fuelled even more by the anxieties emerging from the Covid pandemic. So what makes this one different? Based on his own experiences, Lucas takes us through a wide range of emotions and describes how he has learnt to deal with them in a positive way. 
For instance, he explains his reaction to Fear by firstly providing his own definition with a suitable emoji. He gives a vivid example of travelling alone for the first time on a plane to Portugal - an experience that he thought would be an adventure, but realises that he misses an adult to distract and reassure him. I like the way that he reflects on his fear and recognises that it was ultimately ok but finishes by telling us that he prefers not to travel alone again, and that his parents understand why. This is a child who is taken seriously.
Curiosity is succinctly described as 'An eager wish to know or learn about something'. Understanding the motivations of ones parents is often puzzling for children, particularly when they have separated and live in different countries. Lucas has evidently been asking questions about the reasons for this since the age of three. Now he has a better understanding, because both his mom and dad have tried to give their many reasons for the separation:
' I feel better now that I know that my dad left because of the things he wanted to do and not because of something me or my mother did'.
Another difficult emotion to navigate and resolve is the jealousy of a parent's new partner. This must be such a common experience but is often depicted as an unproblematic new relationship for the whole family from the outset. Lucas remembers how he felt left out when his mom started dating his karate teacher:
'It used to be just her and me, and all attentions were for me; we would do everything together'.
Eventually he realises that there are lots of positives and after a great deal of nurturing discussion from mom and the boyfriend - he can see the many advantages.

I can see how this very honest book could be used with children to help them to articulate their own feelings. I think that they, and adults would respond well to his matter of fact and ultimately common sense approach to life.
Karen Argent
August 2020