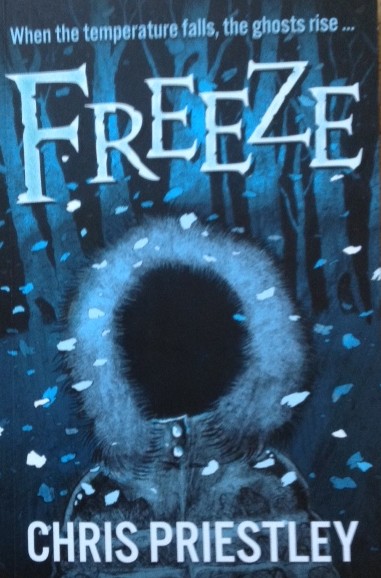 posted on 13 Sep 2021
Freeze by Chris Priestley
It's always a sign that the summer is coming to an end and the dark nights are just around the corner when collections of spooky stories start to appear. Freeze comes in time for the onset of cold nights and mornings and the build-up to Halloween and for younger readers who like a tingle down their spines when they are reading, this one will be a must.
Chris Priestley is a hugely talented and reliable writer with the Tales of Terror series already under his belt and you'll find reviews of Still Water and Seven Ghosts (also from the Barrington Stoke publishing house) elsewhere on The Letterpress Project website. He's certainly no stranger to stories with more than a hint of the supernatural and he knows just how intensively to pitch the tingles and fear for his target readership. This one is guided for readers over the age of 8 but it will certainly appeal to otherwise reluctant readers right into their teens.
Priestley has opted for what is now called a 'nested' structure for the book but which used to be called a portmanteau format– here four almost free-standing stories are grouped together within a single umbrella story. When Maya's class at school are given the chance to take part in a special creative writing exercise, some decidedly odd things begin to happen. Things start to go wrong for Maya when the teacher separates her from her three best friends and she finds herself sitting next to a mysterious new girl.
The pupils are asked to think of a creepy story with a winter theme and, much to Maya's surprise, her three best friends seem eager to share their ideas with the rest of the class. As each one tells their creepy (not gory!) tales Maya finds herself oddly drawn into each tale – she doesn't just listen intently she actually seems to be entering each story and living through the horror. And each story seems to include the mysterious new girl who has just entered the class.
Maya finds herself suddenly moved to tell her own story – even though she hadn't planned to – and starts to wonder whether there's something distinctly strange going on. But oddly none of her classmates seem to be experiencing the same sense of distorted reality that Maya is.
When, at the end of the class, the new girl stands up and begins to tell her story, Maya knows the class and all her friends are in mortal danger unless she takes control of the situation…..
Chris Priestley is also a fine illustrator of his own books and this time he's come up with some suitably spooky drawings, often full page, that are sprinkled throughout the stories. I'm especially fond of the mutant snowmen and the Jack Frost puppet that comes to life.
The book is available this month and can be order from your local independent bookshop or you could go directly to the Barrington Stoke website and buy it there.
Terry Potter
September 2021