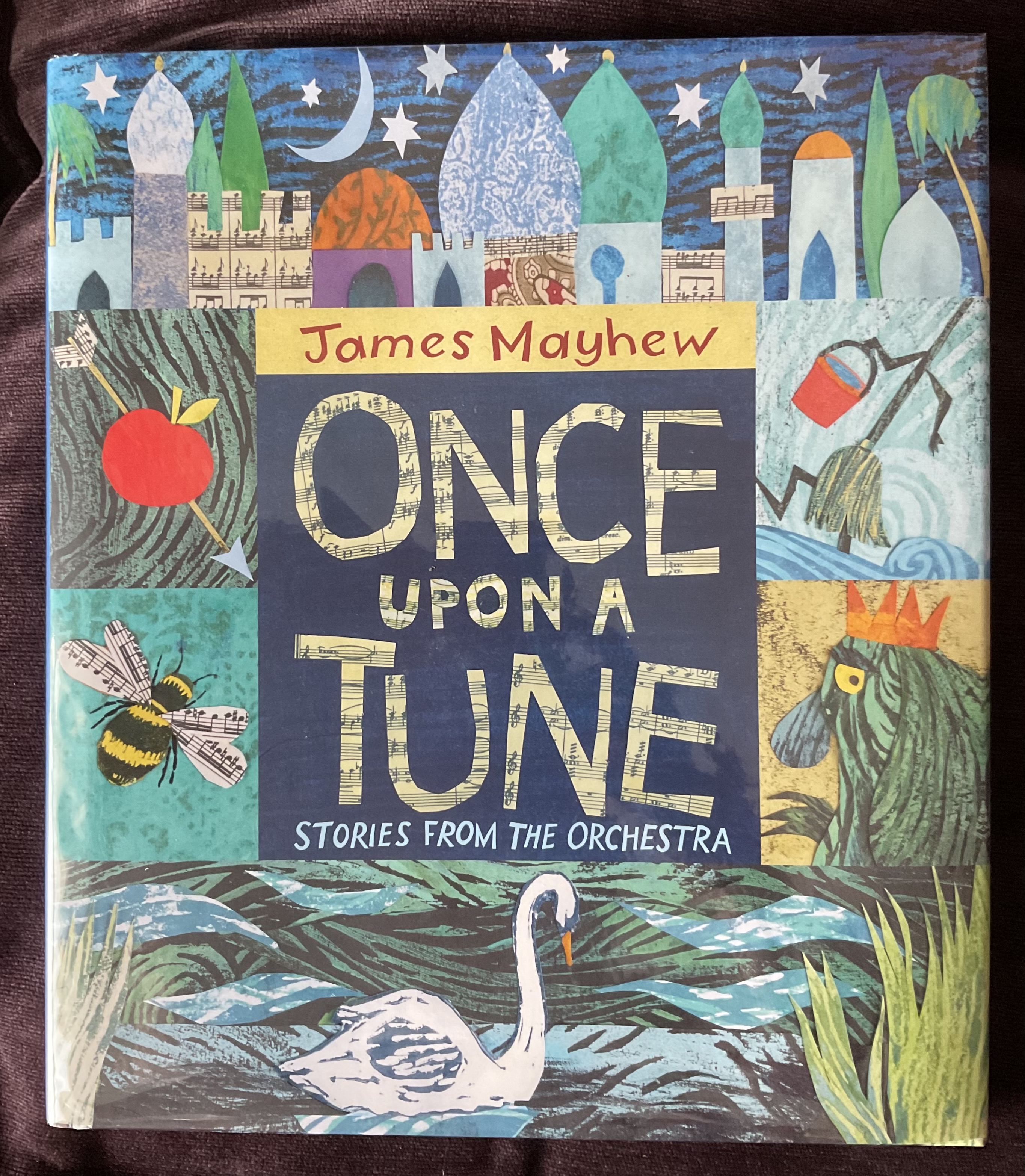 posted on 09 Sep 2021
Once Upon a Tune: Stories from the Orchestra  by James Mayhew
Alongside his work creating wonderful books such as Mrs Noah's Pockets and Mrs Noah's Garden, this prolific author/ illustrator works with a huge variety of orchestras and musicians, presenting exciting and innovative concerts that combine music, story and art live on stage.  In this extraordinary book, he retells six stories from many lands that have inspired some of the most famous pieces of classical music. I loved them all but will just tell you a bit more about two of my personal favourites in the collection.
The Swan of Tuenela (Music by Jean Sibelius after The Kalevala)
This very strange tale is set at the edge of the very cold land of the dead where Lemminkainen waits to meet the fairest princess in all of Finland.  He has travelled a long way to be with her but discovers that she is the daughter of Louhi, the wicked Witch-Queen of the North. As often happens in stories, the mother sets him three challenging tasks before she will agree to their marriage. He manages to complete the first two but is a bit flummoxed at the final one which is to shoot the Swan of Tuonela who guards the land of the dead. The beautiful creature entrances him with her haunting song and, because he hesitates, he is punished by being bitten by a poisonous water snake conjured up by a rival suitor.
Warning: some adult readers may be startled by what happens next which is quite bloodthirsty, but children will be delighted.
 His mother learns of his horrible death and makes the long journey to recover his body. A mother's love is all powerful so with the help of some strong magic, she is able to restore him to life. Lemminkainen realises that his home is more important than the excitement of dicing with death and returns to marry a local girl and to enjoy 'many more exciting and magical adventures in that land of the Northern Lights'.
Scheherazade (Music by Nikolai Rimsky Korsakov after The Thousand and One Nights)  
This is a more familiar story, but I particularly liked the way in which the reader is introduced straight into the ghastly action in the opening paragraph:
 'The Sultan Schahryar was an angry man. Oh, he had power and wealth, palaces and gardens and all the luxuries of the East. But ever since his queen had betrayed him by falling in love with a slave, his heart had been broken. Yes, the Sultan was angry and the queen was sent to the executioner'. 
As you may know, he plans to marry a new wife daily and then has her put to death the following morning, in order to avoid having his heart broken again. The beautiful and clever Scheherazade has other plans because after the wedding feast, she begs to tell her younger sister a farewell story. The Sultan listens and is suitably entranced by her superb storytelling skills and is obliged to keep her alive in order to find out the ending. This intriguing avoidance tactic continues for many weeks and months with 'sweeping tales of magic and mystery, of adventure and danger.'
 After a thousand and one nights (and bearing him three children during this time) Scheherazade at last risks asking him whether she has earned the right to live without worrying about imminent execution. You will be glad to hear that he agrees, recognises that 'women are wise, wonderful, faithful and true' and so they presumably live happily ever after.  The power of imaginative storytelling is something to be emphasised with children rather than the dubious behaviour of the Sultan!
Each tale is sumptuously illustrated throughout and readers will spend time looking closely at the colourful detail in each picture. As well as this, the book includes Musical Notes where you can find out more about the stories and if, like me, you are inspired to listen to the music, the author includes recommended recordings.
This is a splendid resource for any children to begin learning more about classical music and I hope will be found in all primary schools.
Strongly recommended.
Karen Argent
September 2021