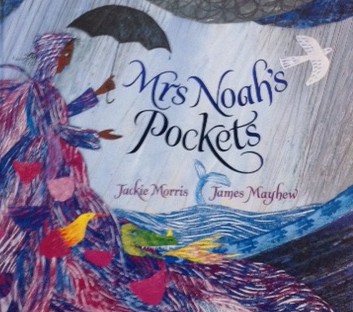 posted on 03 Jan 2018
Mrs Noah's Pockets by Jackie Morris illustrated by James Mayhew
Normally when I sit down to write a review of a Jackie Morris book I'm trying to think of new superlatives to describe her beautiful and striking artwork – but not this time. Instead we have a book written by Morris and illustrated by her good friend, James Mayhew. In fact, this is the result of a bargain the two writer/artists struck in which he would write a story for her to illustrate and she would reciprocate with the same. Mayhew gave her Can You See A Little Bear and Mrs Noah's Pockets is her offering back to him.
On her website, Morris tells us:
Mrs Noah's Pockets is about a character very under-represented in historical writings, the long suffering wife of the boat builder. The story came in such a rush that it seemed the words were writing themselves.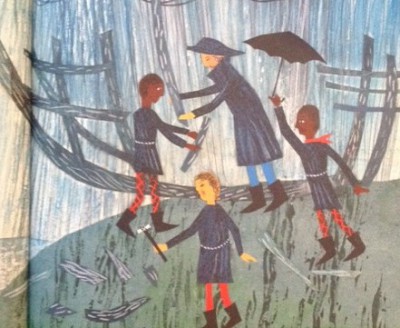 And that sense of a joyous whoosh of words is very much the feeling this story gives you. It positively revels in being subversive, naughty even, and there's a fairly large snook cocked at the patriarchy.
As Noah prepares his ark to accommodate his family and representatives of all the animals in the world he decides this is an opportune moment to weed out those animals who are frankly a bit troublesome and who he could live without. But Mrs Noah knows what he's up to and she has quite different ideas about what's troublesome and what's not. So, she sets about secretly making herself a cunning overcoat with huge pockets, making Noah believe she's just making curtains for the ark.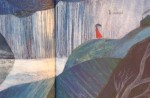 As the rains beat down Mrs Noah takes herself off on a walk into the woods and the animals get loaded onto the ark:
At last all were gathered inside the ark. It heaved with animals large and small….Mrs Noah wore a brand-new coat, stitched and snipped and tucked and turned, with a hood and a cape and very deep pockets. Lots of pockets.
As Noah and his family wait for the rains to stop, Mrs Noah tells the children stories of unicorns, dragons, griffin and a host of other fantastical creatures – much to Mr Noah's distaste because these are, of course, the animals he thinks of as troublesome.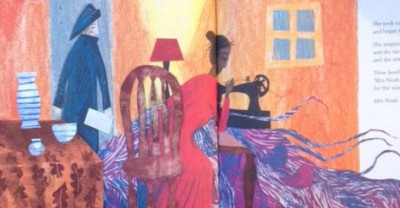 When the rain ends and the waters have drawn back enough for dry land to emerge again, all the animals spilled out '……..as Mr Noah watched and smiled. So much tidier without those troublesome ones.' Or so he thought..
From her coat of many pockets spring Mrs Noah's own secret collection of animals and guess what…it's all those troublesome fantastic creatures running free again.
James Mayhew's drawings are very different to Jackie Morris' own style and yet he's absolutely right for this story. His slightly scuzzy, brilliantly coloured and deceptively simple figurative style brings a third dimension to the pages. It's as if the drawings riff on the energy of the story, providing Mr and Mrs Noah with very definite characters the reader can identify with. I love the fact that he can do close and detailed but also the big landscapes and seascapes when the story demands that.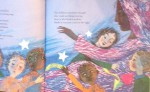 Having seen Jackie Morris read the story to an audience I can confirm that it's a book that could work brilliantly for teachers reading to groups of children sitting around close enough to see the illustrations. And as well as being a beautiful book to look at, it's great to have stories like this which showcase strong, independently-minded women rather than depicting passive Princesses waiting for their Prince to turn up and validate their lives.
You'll get a lovely hardcover copy of this book for about £15 – but buy your copy from an independent bookshop because I now that's what Jackie Morris would want you to do.
Terry Potter
January 2018