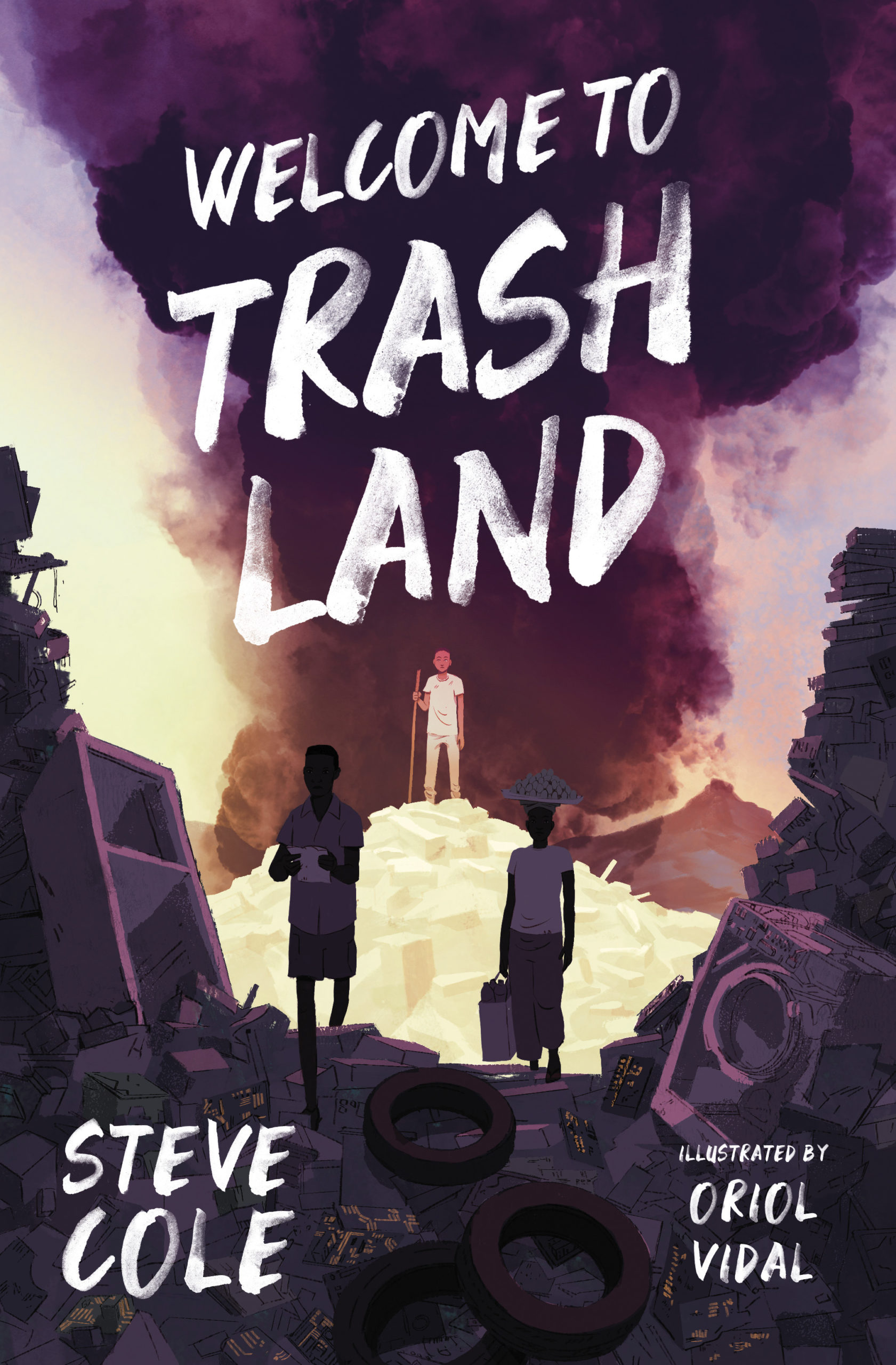 posted on 08 Jul 2021
Welcome To Trashland by Steve Cole
Following on from the excellent Tin Boy in 2019 and World Burn Down in 2020, Steve Cole gives us a third environmentally-conscious novel for young readers, Welcome To Trashland. The first two of these books brilliantly managed to combine astonishing and even distressing information about the impact of global capitalism on landscapes, environments and people in so-called developing countries with fast-paced, engaging adventure. Now Welcome To Trashland steps up the pace another notch and it's the most involving and riveting read so far.
This time we are taken to witness the life of Theo who lives in the margins of Ghana's vast electronics dumping ground at Agbogbloshie. He makes a sort of living by scavenging for scraps of metal with his trusty magnet that he can then sell to the formidable man who oversees the dump.
Theo flirts with the idea of getting an education and tries to attend the teaching lessons given by another teenager, Gifty, who can read and write and has aspirations to set up a school of her own rather than continue operating from her shanty hut. However, his life is turned upside down when another boy, Emmanuel, tries to steal his magnet and ends up offering Theo a deal – a share in the treasure that has been buried somewhere in the dump.
The boys team up – but in this world you can't trust anyone. Emmanuel's story turns out to be a complex one that will involve Theo and Gifty in a brush with the world of illicit gang activity, violence, betrayal and physical danger. But for the poor, the lure of treasure and escape from Trashland are just too tempting to ignore and the hunt for the mythical buries treasure has to go on until the quest is complete.
I'm clearly not going to tell you how the story unfolds because you'll want to read it for yourself. I have to say that I couldn't put the book down once I'd started and I'm willing to bet that you'll be captivated in the same way. You shouldn't be surprised to discover yourself holding your breath as you read and be prepared for some nasty shocks!
At the end of the book, author Steve Cole explains the real life story behind the Agbogbloshie electronics dump and explains the implications of a world in which people casually discard their used phones and computers. He ends this way:
"There's things you can do too. We all like new stuff, but don't upgrade your phone just for the sake of it. If there's a faulty appliance in your home, see if it can be repaired instead of replaced….This way, less electronic waste will be burned or buried.
We need that to happen – before the entire Earth becomes a Trashland."
Steve Cole and illustrator, Oriol Vidal have given us an accessible and important book that opens a window on the world that we often don't get to look through.
This book is highly recommended and can be ordered from your local independent book shop or directly from the Barrington Stoke website.
Terry Potter
July 2021