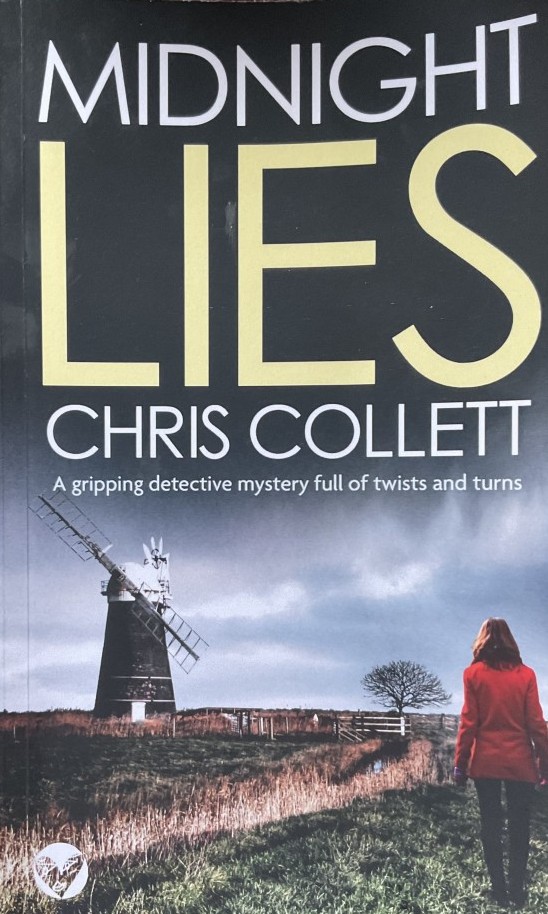 posted on 09 May 2022
Midnight Lies by Chris Collett
As a long- time fan of DCI Tom Mariner, I was delighted to hear from the author that he was to make what will probably be his last appearance in this intriguing novel, Book 9 of the series. I have followed his character development with interest and feel that I know him quite well. Without revealing too much of the plot, this latest story delves sixteen years into his past, and so gives another dimension to his complex character.
Mariner has hinted before at his unsatisfactory relationship with his mother and here we find out that she was rather unconventional and perhaps a bit self- centred. The relentless heat of the summer of 1976 is the setting for Mariner's first romantic relationship with Robina, an older girl who he meets when on holiday with his mother at a Norfolk festival. They have a brief but intense sexual experience and then she disappears and he is disappointed that she fails to keep in touch with him. He soon gets on with his own life, forgets all about her and eventually joins the police force. 
When the skeleton of an eighteen year old girl is discovered, Mariner is contacted over the witness statement he gave when Robina had gone missing all those years ago and now he is shocked to realise that Robina had never left but had been brutally murdered. He becomes haunted by her death and is determined to help to solve the cold case mystery as he is now an experienced police officer.
Mixing professional with personal life is never to be recommended and he is discouraged from getting too involved. But of course he can't resist and so becomes deeply and dangerously entangled. This obsession starts to have an impact on him solving a perplexing murder case on his own territory in Birmingham. To make things even worse, he is also under investigation for confronting and chasing a young lad that had resulted in life threatening injuries. Then, in another development, the daughter of his colleague goes missing.
By the middle of the novel, this very human and likeable police officer is increasingly distracted, frustrated and vulnerable.   
Moving back and forth from what Mariner remembers from 1976 to the present day gives us a privileged insight into what might have happened to Robina; but, just how reliable is his memory?
 I personally found his reminiscences of his first sexual experience to be unnecessary and I couldn't help but feel a character like Mariner wouldn't  have wanted to share these details of his intimate life in this way.  Apart from this small glitch, Chris Collett is as highly skilled as ever at weaving together a complicated set of plots (perhaps a couple too many) and an interesting range of characters to keep the reader guessing right up until the last page.
Is this really the last book in the wonderful series? I was expecting a very different ending to this one, but am very relieved to say that I was wrong. See what you think.
Karen Argent
May 2022