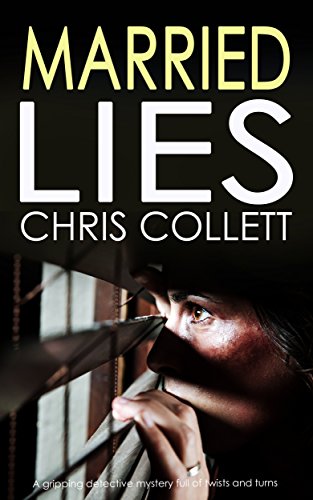 posted on 11 Nov 2018
Married Lies by Chris Collet
Chris Collett has successfully reworked and polished seven of the eight books in the wonderful Detective Inspector Tom Mariner series set in Birmingham, which are rebranded, retitled and now published by Joffe Books. 
This one is the fifth in the series and was originally published by Piatkus in 2009 as 'Stalked by Shadows'. I have already admitted that I have a soft spot for this likeable detective in other reviews so it is no surprise to find that I continue to forgive him the occasional mistakes in his personal life as he tries hard to find someone special to spend time with. Not that he has very much spare time to build personal relationships, because he and his hardworking team can't be faulted for the way they doggedly investigate the two puzzling crimes that are eventually solved in this novel.
The first is the gruesome discovery of Nina Silvero's dead body, the well-heeled widow of a Senior Police Officer who died some years before after playing a significant part in covering up a death in custody. She has apparently been poisoned in her own home by sulphuric acid disguised as wine that has burned away much of her throat and oesophagus. Everyone that is questioned talks about her good nature and generosity, and she had recently heard that she has been awarded an MBE as recognition for her many services to the community. Who on earth would want to murder such a paragon? Could it be linked to the family of the young man who died many years ago?
The second case is delegated by Mariner to Detective Constable Officer Millie Khatoon, another well rounded character who has appeared before.  It concerns the relentless and cruelly intimidating stalking of Lucy Jarrett, a recently married young woman who works as a Health Visitor. She contacts the police because she is becoming paranoid, with good reason. She receives many threatening phone calls, is regularly followed home from work and receives unwanted post plus a deluge of e mails. Her husband doesn't want to believe her and she is starting to doubt her sanity and feel physically ill. Everyone agrees that she is sweet, caring and doesn't need to worry about money – her husband is handsome and is clearly a talented musician. Once again, who would want to hurt her? Mariner is very sensitive to the potential vulnerability of Lucy as he has recently been involved in the murder investigation of another young woman by her ex- partner. I like the way that he trusts Millie to lead the investigation, but remains involved throughout, despite having little time to do so.
I am still reeling from the shocking and unexpected twist towards the end of this crime novel, which is odd because I have read the original version of the story before! I had even forgotten the identity of the murderer until about three quarters of the way through this gripping read. Perhaps I just have a very bad memory and read and watch far too many crime stories that they become muddled together? Whether you are reading it for the first or second time, I strongly recommend this page turner with its many twists, turns and red herrings . It deserves a place on my bookshelves along with the likes of Karin Slaughter, Sue Grafton, Michael Connelly and Elizabeth George, especially as it is unusually set in Birmingham which isn't well represented in crime fiction.            
Karen Argent
November 2018