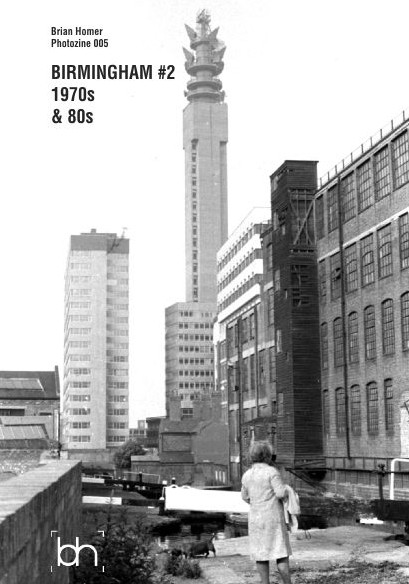 posted on 05 May 2022
Birmingham #2 1970s & 80s by Brian Homer
This second instalment of Brian Homer's Photozine series (you'll find the first one reviewed here) sees the photographer and designer continue to open his extensive archive of images that collectively paint a portrait of a city in transition.
Good black and white photographic prints are always intensely evocative and nearly always make the urban cityscape tangibly grimy and strangely alien. Landscapes dominated by gasometers (squatting like giant empty waste baskets on the horizon) now have a sort of curious historical feel to them and a cursory glance at the way the pedestrians, passers-by and workers are dressed speaks volumes of the depressed economy of the times.
For me it's the photographs of Birmingham city centre that are the star of the show. The planners who took the centre from a red brick Victorian metropolis to a 'modern' Brutalist shopping centre dominated by cars whizzing around the choking 'concrete collar' of high speed roads have a lot to answer for in my opinion. As soon as this vision of a raw concrete paradise began to pall, constant changing of the architecture of the city became endemic and along with the changes any coherent vision was lost – and, I think, the city leaders have been seeking one ever since.
It's a city that has been shaped by the car. As Brian Homer says in his short introduction:
"There has been a see-sawing battle for supremacy between pedestrians and vehicles in Birmingham….with people relegated to underpasses and bridges…. Eventually the 'concrete collar' of roads was partially broken but the city centre remains mostly circled."
To get a sense of the dominance of the car, just take a look at the imposing centre spread which shows just what it was like to be on the ring road approaching the iconic Birmingham Bull Ring and Rotunda building. The old Bull Ring market is now history as is the Rag Market which Homer pictures on pages 6 & 7 but, after an outcry from the public, the Rotunda remains, saved by popular acclaim. Or maybe take a look at the double page spread on pages 24-25 and see how complete the supremacy was.
The 'new' Central Library only lasted for 40 years before it too met the wrecking ball – which was at least thirty years longer than the ill-conceived Maglev train designed to serve the airport. Also long gone is another building I had a huge fondness for, the Aston-based Arts Lab which specialised in screening arty European films and New Wave American movies and was the place I spent many hours in my late teens.
You will be able to order this latest publication directly from the photographer and you'll find out how to do this by going directly to his website (https://www.brianhomer.com/photography/prints-publications/)
Terry Potter
May 2022