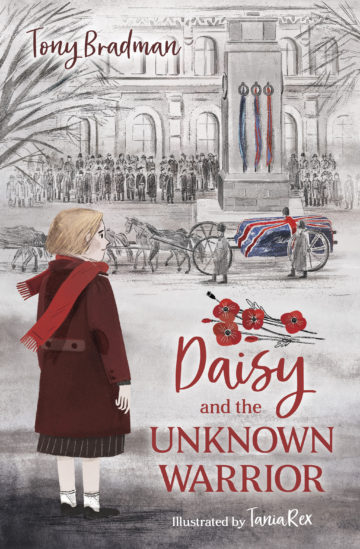 posted on 14 Oct 2020
Daisy and the Unknown Warrior by Tony Bradman, illustrated by Tania Rex
I am always impressed at how this prolific and popular author manages to weave important historical points into his stories. He never shies away from exploring the complexity of feelings related to any kind of conflict whether between individuals or groups.
This time he looks at the sorrow of one family who lost their father in WW1. Like many thousands of others, Daisy's beloved dad was killed in action with no details about how, when, why or where he was buried. As a result, she and her mother seem unable to move forward with their lives because it is so difficult to accept that they will never know. We learn that the government's decision not to return many bodies home was deliberate in terms of keeping up the morale of the country - perhaps not factoring in the tsunami of persistent grief that this would cause.
It is now almost two years after the end of the fighting but eleven year old Daisy keenly remembers the pain of the first Armistice Day when she and everyone in the crowds around her sobbed. When she hears that this year there is a plan to focus on the arrival of an Unknown Soldier to be buried at a ceremony in Westminster Abbey, she is filled with excitement. Surely there is a slim chance that it could actually be her father? Her mother remains unconvinced, increasingly irritated at her idea and overwhelmingly angry at their post war situation. Before dad went to war, they had a happy family life, a pleasant little house and a reasonable standard of living. During the war, she had earned a steady income as a tram "conductorette" but now all the better jobs were reclaimed by the men and her war pension is meagre. Now living in a poky two bedroomed flat with her three children, I could well imagine her loneliness, frustration and bitterness.
Daisy is a sensible girl with a mature attitude to helping her mother and caring for her two younger brothers. But she is also determined to see the ceremony, whether she is allowed to or not. I liked the way in which she struggled to balance common sense with wish fulfilment, and how she realises that she is not the only person to do this when she eventually witnesses the huge crowds at the ceremony.
I wont spoil the plot by telling you how it all plays out because I recommend that you try reading it for yourself. As ever, Barrington Stoke as publishers have produced a slim story aimed at reluctant and dyslexic readers that is first class. It brims with atmosphere, well drawn characters and is packed with history. There are so many little snippets of information to be further explored:
'It had set off lots of smaller wars, like a wicked genie that had been let out of his bottle. The Poles were fighting the Russians, the Greeks were fighting the Turks,and in Ireland there was a terrible civil war'.
The sombre little illustrations by Tania Rex add to the general demeanour of the book which depicts a sometimes difficult post war family life. Despite this, there is a real warmth to the way in which Daisy and her family are shown to be coping and learning to live with their sad memories. The detailed historical note at the end of the book provides the interesting context for the story. Read, enjoy and learn about how it takes a very long time to begin to recover from a terrible experience.
Karen Argent
October 2020