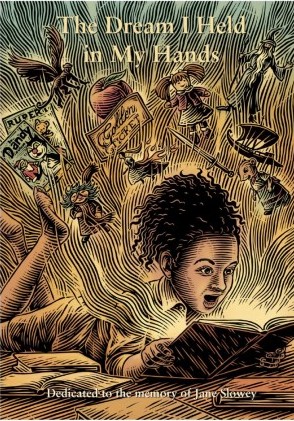 posted on 31 Oct 2019
'The Dream I Held In My Hands'
The Letterpress Project is delighted to be able to present its most recent publication 'The Dream I Held In My Hands' which we have put together as a tribute to Jane Slowey CBE, one of this project's founding members who died two years ago this month.
The sad news of the death of Jane Slowey in 2017 came as a significant blow to all of us at The Letterpress Project. Jane had been a founding member of the management committee and was a dedicated reader and believed strongly in the transformative power of books.
Tributes paid to Jane always referred to her and her work as 'inspirational' and we have decided to pick up that theme as the basis for this particular Letterpress Project publication.
We invited a range of authors - some professional and some not -  to make a contribution to this new publication by writing about the book (or series of books) that they read as a child and which they could look back on and say, 'Yes, that inspired me to be a reader'.
We asked them to do that most difficult thing -  to capture the moment of inspiration and potentially the moment of transformation brought about by a special book or a loved author.
We were thrilled at just how many people responded to our invitation and understood just what it was we were trying to do. 
Jane brought her enthusiasm and skills to the Letterpress Project and we were all enriched by her contributions. Whilst our loss is grievous, the loss to her family is incalculable and I hope this book, a tribute to Jane's ability to inspire those she met, goes a little way to filling the gap she left behind.
We asked people to honour Jane's memory by thinking about which books inspired their imaginations – and as you'll see the response was exceptional.
A strictly limited edition (150) of the book can be ordered while stocks last at a cost of £4 to cover post & packing by emailing letterpress@btinternet.com.  Alternatively, you can read and download copies of the full publication on the link below: