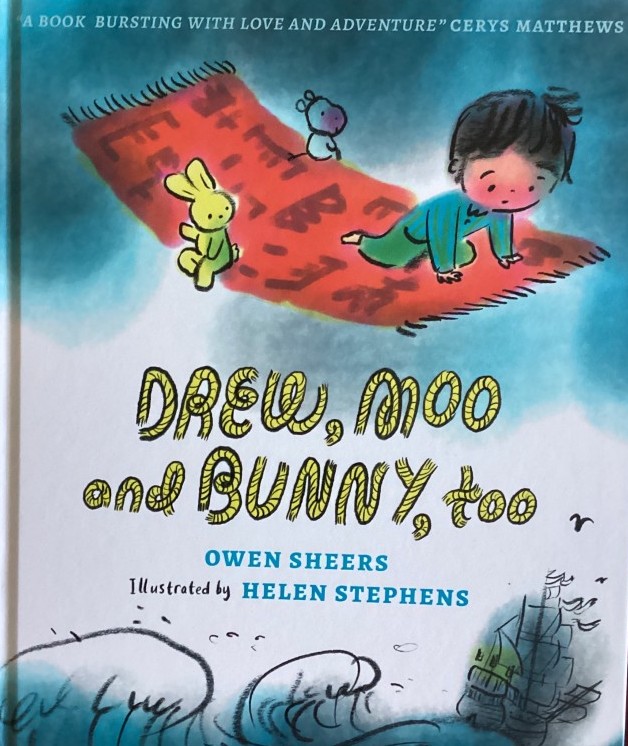 posted on 16 Nov 2023
Drew, Moo and Bunny Too by Owen Sheers, illustrated by Helen Stephens
The charming story of a young boy, Drew, who travels with his friends, Moo and Bunny on a wonderful flying rug to experience amazing adventures in his dreams has been written by Welsh poet and playwright, Owen Sheers and illustrated by award winning illustrator, Helen Stephens. 
The book celebrates the life of young Drew Barker-Wright who, sadly, died at the age of four with Paediatric Chordoma – a rare form of bone cancer. The story Sheers tells was written with the aid of Drew's parents and a charity that bears the boy's name is advertised at the end of the story and, of course, this book is dedicated to him.
Written in verse with plenty of rhythmic repetition that makes this an ideal book for reading out aloud, the story begins with Drew snuggled up and safe in his bed with his favourite toys, Bunny and Moo. They are best friends. And what do best friends do? They go on amazing adventures at night.
On this particular night, as Drew enters his magic world of sleep, the three take off on their magic carpet to swoop around the world – flying high. The three best friends hardly ever fall out but on this trip they find themselves bickering over where to go and what to do. Without noticing, the carpet starts to lose height and they find themselves falling with a plop into the ocean. What on Earth will they do? 
But, it seems, help may be at hand when a ship appears on the horizon. But, there's a catch, because it's a pirate ship. They scramble on board and are suddenly confronted by the pirates and their feisty leader:
"'I am Captain Jacqueline or Jack for short!
Famous across the seven seas,
the mystery of many oceans,
the queen of wave and swell!'"
Drew and his two friends discover that Captain Jack has a special kind of telescope that allows her to spot the Earth's rarest treasures that the pirates can collect for themselves and keep in the very bowels of their ship.
Drew is shocked and tells Captain Jack that they should return all these rare treasures back to where they belong – but there's a problem. Now the pirate leader wants the friends' flying carpet to add to her collection!
What can the friends do? How can they get back their carpet and head off home again? And, crucially, how can they save all the rare Earth treasures?
Well, obviously, I'm not going to tell you because you're going to want to read it for yourself.
Available now from Walker Books, you will be able to get a copy from your local independent bookshop – who will be able to order it for you if they don't hav a copy on the shelves.
Terry Potter
November 2023