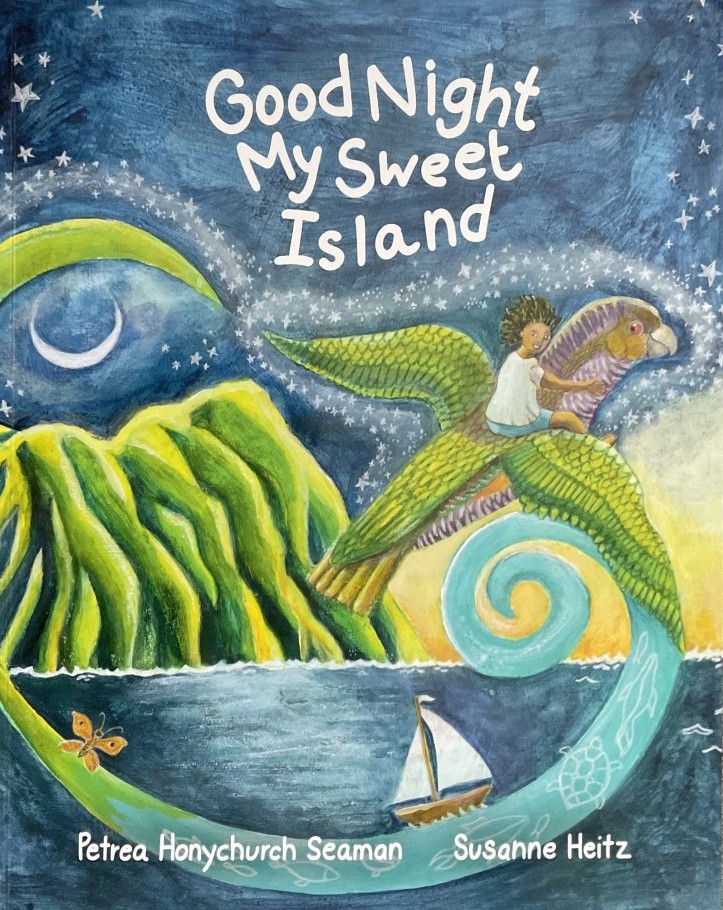 posted on 17 Aug 2023
Good Night My Sweet Island by Petrea Honychurch Seaman, illustrated by Susanne Heitz
I have never visited the Caribbean but this beautiful picture book about a tropical island, probably based on Dominica where the author was born and grew up, makes me want to go as soon as possible! The front cover promises an immediate escape from the tedious, drizzly, grey English weather with the vibrant blues and greens flooding the page. A happy girl riding a huge bird set against a twinkly night sky above the ocean looks out at us and invites us to follow.
This is a gentle lullaby shared by parents with their daughter as they remember and treasure memories of a very special place. Every gorgeous double page spread is a feast of vibrant colour as she travels to and explores the precious island. The rich, textured illustrations dominate but the relationship with the simple poetic text works perfectly. There is some resonance with the much-loved American classic 'Good Night Moon' by Margaret Wise Brown which also uses a repetitive rhythm to remind a child of what is important and safe in their lives. But this book moves far beyond a bedroom into a busy place with exotic birds, fruits, forest, dancing, music, rivers and rain. I loved all of it but will describe a few of my favourite illustrations in a bit more detail to hopefully give you a tantalising flavour.
The little girl is shown on a tree swing looking out across the bay which is packed with extraordinary creatures. The sweep of the gorgeous green hillside contrasts with the blue of the sea as it laps alongside. The detail of the flowers and insects in the foreground creates an atmosphere of buzzing stillness:
'Good night pelicans
And wild honeybees,
Sperm whales and turtles
   And fish in the sea.'
The weather is always dramatic but is a necessary part of the lushness and plenty which means that people can still enjoy playing together in the rain beneath a rainbow:
'Good night thunderstorms
  And bright summer fun,
  Rivers roar in the rain
   And sing in the sun.'
The shift to a vibrant celebration spilling across to the edges of later pages demonstrates how visiting the island can also evoke happy memories of noise and laughter. Everyone is dancing or making music with a smiling carnival queen stretching her arms wide out in welcome. There is so much detail to look with patterns of musical notes, stars and fishes repeated everywhere.
I strongly recommend that you spend time relishing this extraordinary picture book. It should be available to order from your local independent bookshop or direct from the publisher's website: www.papillotepress.co.uk  
Karen Argent
August 2023
Please see interviews published on The Letterpress Project website for further information about the author Petra Honychurch Seaman and illustrator Susanne Heitz