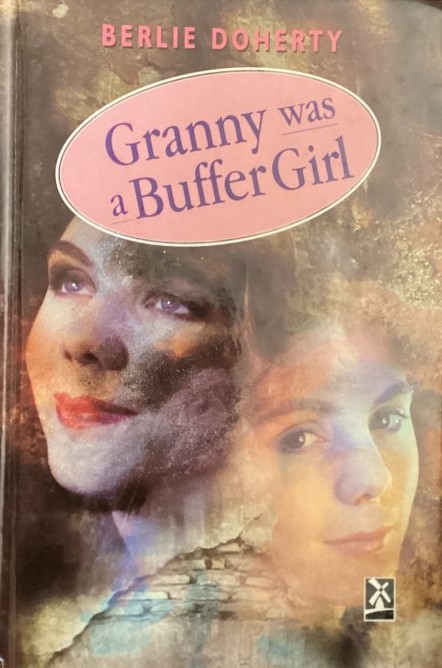 posted on 31 Jul 2022
Granny was a Buffer Girl by Berlie Doherty
All families have rich histories and complex back-stories that get passed on from one generation to the next. Sometimes the telling of these stories can smooth the future path for younger members of a family, helping them to come to terms with some of the secret emotions they've been hiding and worrying about. Sometimes too the stories help the younger generation see their parents and grandparents as real, complex and often flawed human beings - just like them.
This is the territory that Berlie Doherty's Carnegie Medal winning novel, Granny was a Buffer Girl, inhabits. Published in 1986 and going on to win the Carnegie medal for its author, the book tells the emotional story of several generations of one extended family living in Sheffield.
As Jess Bradley prepares to leave the UK for a year abroad at college, the family gather to say their goodbyes and to observe the anniversary of the death of Jess's older brother, Danny who was disabled and who died at a relatively young age. This is the time, Jess decides, to collect the stories of her family to take away with her - how did her grandparents meet and what the early lives of her mom and dad like?
So we get to hear the often amusing and sometimes random stories of ordinary life and loves. First we get the tale of Bridie and Jack who meet and fall in love across an almost unbridgeable divide - she is Catholic and he comes from a dogmatic Protestant background. But somehow, despite the religious tension and inflexibility, love wins out.
Then we have the story of the other grandparents, Albert and Dorothy - she is the 'buffer girl' of the title because she had the job of polishing the cutlery made in one of the famous Sheffield factories.
The story then moves on to tell us about the meeting of Jess's parents, Michael and Josie. Along with that comes the tale of Jess's brother, Danny who was born with a life-limiting illness that means his life expectancy could not be measured much past his late teens. But, we discover, it is Danny's insistence that he should have a sister that convinces Jess's parents to risk having more children. And Jess also has stories to add to the pot - stories about her brother John and her own "lost love" Terry.
Fortified by the strength and diversity of her family history, Jess is ready to take the next steps in her life.
This isn't a book full of exciting events or mysteries - it's gentle and lyrical piece of writing about the extraordinary power of the ordinary and it's an ideal book for young teenagers who are ready to look both forward and backwards. For me, the power of the book lies in the way Doherty gives dignity and substance to working class lives - nobody has to be a hero to be the star of their own history.
Paperbacks are easily available and not too expensive but hardbacks - especially first editions - are much harder to get hold of and much more expensive.
Terry Potter
August  2022