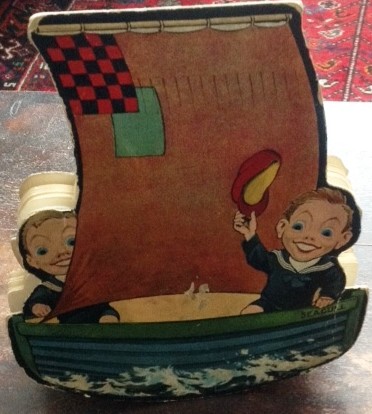 posted on 08 May 2022
Off to the North Pole by Anon
This odd – and I think quite rare – children's book has no acknowledged author but has quite a lot of information on the title page. So what do I know for certain?
Well, this is published by Valentine & Son Ltd, based in London, Dundee and Montreal and this is one of their 'book toys' which comes in the 'rocker series'. This particular one caries the serial number 0231. But sadly, it's not dated but my instinct tells me that the language and illustrative style puts it pre-First World War (but that's just a guess).
I can find out very little about this series. I know that Valentine & Son were more famous for their postcard printing than for books and I also know that the tiny number in this series available on the second hand market are very expensive and mostly in the USA. I can find no other example of this specific title.
I did find one other website – edinphoto.or.uk - featuring examples of three or four other examples of Valentine's book toys and, if you're interested to see them you can click on this link and it will take you directly to their site. 
Off to the North Pole achieves its rocker format by shaped, thick card covers cut into the shape of a sailing boat in which two young boys in sailor suits grin and wave rather manically and, to be honest, unnervingly – their blue eyes lidless and unblinking and their teeth like something from a third rate toothpaste advert.
The story actually features three ''cheery little fellows' called Billy, Bunty and Bobbie who, with the help of their adult sailor friend, Davy. After a short period of tuition from Davy, the boys decide they will celebrate Bunty's birthday by setting off on their own for the North Pole.
Oddly enough, Davy seems happy enough to wave them off with their parcels of food and inappropriate clothing but, we discover, the cunning old sailor is in fact following them from a short distance in his spare boat. The three boys feel very grown up until seasickness and a storm start to put everything in jeopardy – which is when Davy steps in and sees them back home safely.
Billy's mother and father seem pretty blithely unconcerned about the safety of their child and are quite happy to know they are being looked after by old Davy – an approach to child safety and welfare that's unimaginable today.
The story has all the hallmarks of being made up by someone as they went along (possibly someone of the Valentine & Son staff? ) and the internal illustrations are crude – which might account for why no-one is credited with them. All of the interest lies in the fact that it's a hybrid of a book and a toy but it's hard to imagine that it satisfied on either front once the initial impact has passed.
I can easily see that the chance of very many of these books surviving the ravages of the child's toy box are pretty slim and that might well account for their rarity. It's nice to have a copy as an example but it's more an historical curiosity that a desirable piece of children's literature.
Try finding another copy……
Terry Potter
May 2022