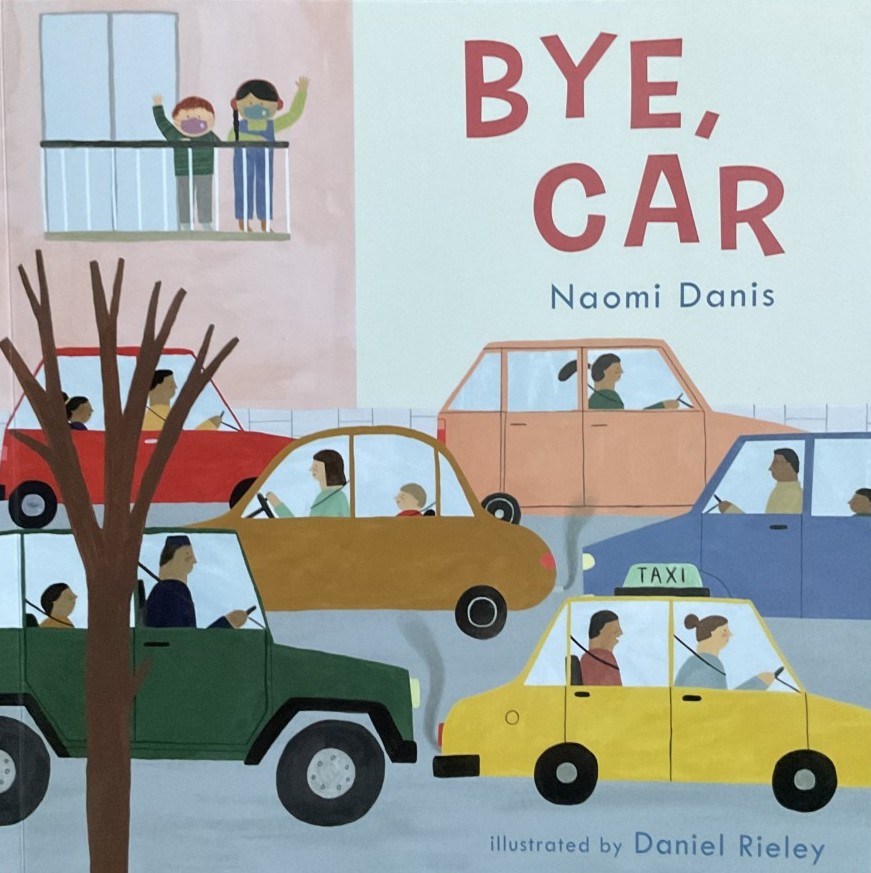 posted on 04 Nov 2021
Bye, Car by Naomi Danis, illustrated by Daniel Rieley
Most little children are intrigued by the many vehicles that pass them by them as they become aware of the outside world. Quite a few remain fascinated for many years and love to point out the less familiar ones and, encouraged by adults, will make approximately appropriate noises.
At The Letterpress Project, we have noted many times that Childs Play International Publishers always keep the child at the centre of a story and this is another example of that. On the first double page spread we see two smiling children looking out of an upstairs window in a block of flats as a red car drives away to the right. Then we see the scene from their point of view as they look down on the street and watch a green car going in the other direction.
Next we are taken outside with the children and their mother, all wearing facemasks as they walk together along the street. Is this because of the pandemic or because of pollution, or both I wonder? As they travel through the streets they see plenty of other vehicles. There is a simple rhythm to the text that incorporates some adjectives about size and colour. There are some playful descriptions of cars that seem to be increasingly noisy and which have obvious problems with exhaust trails.
By half way through the story it is clear that, as well as being interesting to watch, vehicles can be a bit of a problem. I liked the pages that showed the cacophony so that I could almost hear the loud ice cream van music alongside the 'growling car' with a huge cloud of exhaust smoke behind and an open topped car with people playing a saxophone and a trumpet.
Oh the relief to notice a very quiet car pulling away from an electric charging point!
From this point, everything seems rather chaotic as the traffic builds up and evening arrives:
'Bye, blinking car.
Bye, winking car.
Bye, flashing car.
Bye, dashing car'.
The turn of the page shifts the focus to travelling by E-bus as a possible solution to all the noise and pollution. I presume that this 'new day' is meant to be sometime in the future, as, nobody seems to be wearing facemasks any longer – obviously another point for further discussion with children.  Now the repeated refrain is a warmly expressed 'Hello'. The same roads are now packed with people riding all kinds of bicycles, scooters and skateboards, and a tram. A group of children walk along wearing high viz jackets, perhaps on their way to school.
The last pages show the two central characters waving once again from their flat as they watch the cleaner, greener world below   
As with all good picture books, there are many layers to be enjoyed. It is certainly one for those who are keen on spotting different vehicles and it has a simple, repetitive text that is ideal for younger children who are building up their vocabulary. But there is lots to look at and talk about beyond this, for instance in the details of the bold , bright illustrations that show a man walking along with his arm around another man and a woman using a wheelchair with no assistance needed.
Strongly recommended.
Karen Argent
November 2021