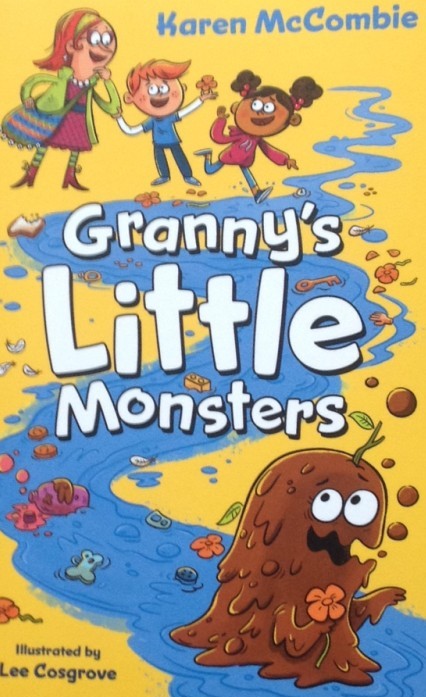 posted on 08 Aug 2021
Granny's Little Monsters by Karen McCombie
Cousins, Zac and Essie love their weekly visit to see Granny Mo. On Saturday they both get the same bus and are met by Granny Mo who always has a fun day planned for them. She greets them with her sing-song voice:
"Well, hello my little monsters!"
On this particular visit, Granny surprises the children with a new addition to her flat – Cookie the cat! Zac and Essie don't have pets of their own so they are thrilled to have a cat to play with. But Cookie isn't Granny's – she's just borrowed her from a friend to see if a cat is the right pet for her to have in the long term.
Each week, Granny Mo plans to borrow a pet from her friends just to try them out and see if any of them suit her:
'"I've decided to get a pet," said Granny Mo. "But I can't decide what sort of pet to get. So my friends are going to lend me their pets, to see what suits me best."
But neither the cat, the snake, the house rabbit or the axolotl seem to work for her and, in their different ways, they cause havoc in the flat. The children are disappointed to hear that there will be no more pets to try and that Granny has given up on the idea of a pet. But, she promises the children, on their next visit there will be another treat for them.
When they get off the bus on the following Saturday they discover that Granny Mo plans to take them mudlarking – hunting for lost treasures in the mud of the river bank. This sounds very exciting until they discover just how deep and gloopy the mud is – yuk!
But there's a real surprise in store for all of them when a strange creature covered in mud begins to emerge from the sludge. What on Earth is this this mysterious creature? Granny decides to take it home, wash it and see if she can discover just what it is……It seems that she now has three little monsters rather than just the usual two.
There's plenty of fun to be had as the third little monster runs riot in the flat and the children have the most exciting visit to Granny Mo's that they have ever had.
Another book in Barrington Stoke's 'super readable' series, this story will delight younger readers and has the bonus of illustrations throughout by Lee Cosgrove.
Terry Potter
August 2021