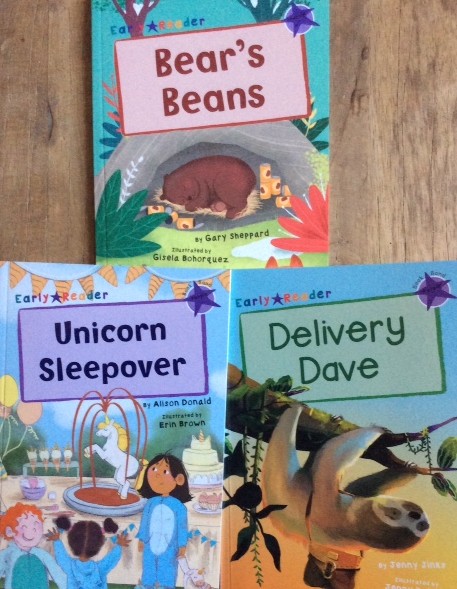 posted on 14 Feb 2021
Maverick Early Readers : Purple Band
One of the most enticing features of any books published by Maverick are the illustrations on each book cover. They select from a variety of excellent illustrators to help make each story more vivid and these ones aimed at more able young readers are no exception. I have already reviewed some from earlier bands and was pleased to see that the Purple band still has plenty to offer visually. Here are three very different examples:
Delivery Dave by Jenny Jinks, illustrated by Jenny Palmer
It seems a strange decision to select a Sloth for the job of jungle postman but who knows what other applicants were up for it? Dave's notorious slowness is becoming a bit of a problem and many animals are concerned at very late deliveries. The creatures of storybook world are kind and patient despite having plenty to complain about, and so come together to help him out. Not all of their ideas are good ones and the various experiments wearing roller skates and false wings are a disaster. At last Ellie the Elephant comes up with the splendid idea of fitting him with a jetpack and everyone is content. The final surprise party celebration with a wonderful chocolate cake shows how much he is appreciated.    
Unicorn Sleepover by Alison Donald, illustrated by Erin Brown
Lots of children (and some adults) are intrigued by the idea of magical unicorns so I am sure that this one will be very popular. Naz wins a place in a competition seen on the back of a cereal box at a Unicorn Sleepover at Hartford Farm. Rather like Charlie and his longed for Golden Ticket, she has already opened nineteen boxes before finding the winning token.  The event is pretty thrilling with fairy lights, popcorn, campfire stories, marshmallows, a giant unicorn chocolate fountain and a unicorn movie as part of the package. But the most exciting part of the competition was the promise of meeting a real unicorn and Naz just can't wait for the morning! The reality is a bit disappointing but she finds that she rather likes horse riding and learns that Hartford Farm was a magical place after all.
Bear's Beans by Gary Sheppard, illustrated by Gisela Bohorquez
A group of animal friends are enjoying a meet up in the forest after the long cold winter when they realise that Bear is missing. Together they set off to find him snoring in his cave surrounded by cans of his favourite food – beans. The story develops as each one tries to come up with a good idea to wake him up. Badger suggest sitting him in an armchair made of snow; Owl uses several small mirrors to reflect the sunrays to create bright light and Fox thinks that banging lots of pots and pans together loudly will wake him. Nothing seems to work and Bear keeps on snoring. None of the animals take much notice of little Mouse who has the very best and most obvious idea for a Bear that loves eating beans. I can see lots of discussion about other creative possibilities for waking sleeping creatures, and even humans.
Once again, Maverick Publishers have produced some compelling and funny stories to engage young readers. The usual short quizzes at the end of each book can help with checking comprehension and perhaps inspire some other questions and further interesting discussion.
Strongly recommended. 
Karen Argent
February 2021