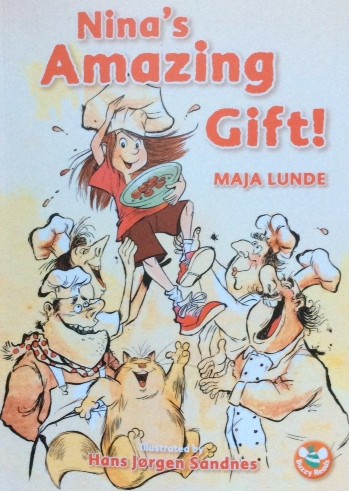 posted on 17 Nov 2020
Nina's Amazing Gift by Maja Lunde, illustrated by Hans Jorgen Sandnes
It is always difficult when a best friend relocates far away and so Nina is terribly sad when Choco moves to live on the other side of the world. She is usually a very happy child – as is shown on the opening pages where the two friends enjoy spending time outside together – but the delicately drawn illustrations, reminiscent of the style of Val Biro, show her change of mood once he has gone. She's  no longer lively and smiling but sad and slumped:
'Nina misses Choco so much that it hurts all the way down to her toes'.
She isn't confident that he will remember to write to her, so when she receives an envelope in the post she is thrilled. But there is no letter inside – just five brown beans! What on earth is she supposed to do with them? All she can do is carry them around in her pocket, finding some small comfort from feeling their smoothness with her fingers.  More illustrations show her looking fed up and listless, as she just can't seem to stop missing him.
But she can't stay sad for ever and is intrigued when, from the vantage point of the branches of the cherry tree in the village square, she spots the arrival of Raymond and Nigella and their sous chefs. They have come to take part in a cooking competition which is the focus of much excitement.
Their first task is to make something that no one has ever tasted before that is' big and round'. The two chefs are shown frantically mixing and whisking, until they eventually present the judges with a pancake and a pizza which are eaten and appreciated with evident relish.
 I can almost hear children indignantly shouting that these are not new kinds of foods at all!
The judges can't decide which dish is the best, so they set another challenge. This time the chefs must make 'something long and thin' and they resume their busy boiling, roasting, cutting and chopping. This time the results are chips and spaghetti, both of which are so tasty again that the judges still cannot make a decision about a winner.
As the competition rages below the cherry tree, Nina is watching intently and crushing the brown beans between her fingers. She tries tasting the resulting powder and realises that she has something very special in her pocket. I expect that you can guess what happens next when she decides that she perhaps needs to submit an entry to the cooking competition. The judges are blown away by what she presents them with and she decides to name her winning dish after her friend Choco.
At the end of this amusing story, we learn that Nina of course didn't really invent chocolate but we are also given some true, little-known facts about this delectable treat. There is even a recipe for chocolate Brownies included too.
It is interesting to learn that the illustrator used real chocolate mixed with hot water to create the original drawings. I am pretty sure that some readers might also want to have a go at doing that.
I liked this feel good Norwegian tale which was translated from the original by Wacky Bee publishers who excel at finding unusual authors and illustrators to vary the diet of mainstream children's books. It is aimed at early readers in the Buzzy Reads series and will be very much enjoyed.      
 Karen Argent
November 2020