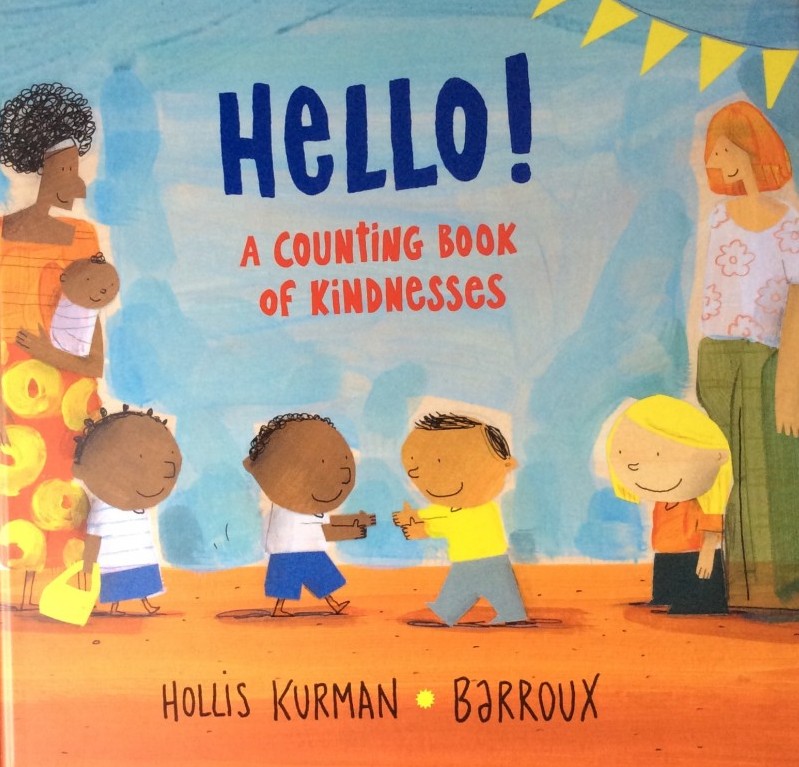 posted on 18 Jun 2020
Hello! A Counting Book of Kindnesses by Hollis Kurman, illustrated by Barroux
Finding ways to help children understand a world that includes difficult experiences is always a challenge. I would argue that doing this for younger children is potentially even more so and takes a combination of careful authorship and illustration. In less skilful hands, the subject of refugees can be particularly hard to convey as it is outside the direct experience of so many children. On the other hand, helping to develop empathy is an important function of picture books - and of course there will be some children who will recognise themselves in these books.  Both the author and the award winning author/ illustrator of this latest one have a proven commitment to human rights and this book is endorsed by Amnesty International.   
I liked it because it not only provides a strong story of hope and an optimistic future for refugee families but also succeeds in focussing on the quality of kindness in a range of situations. It also works as a basic counting book. The best inclusive picture books are not 'about' just one subject or message but generate plenty of questions and opportunities for discussion on every reading.
We travel with a family as they escape from a scary place to find a safe refuge. The text is simple and the beautiful illustrations dominate every page with colours bleeding to  the very edge. This allows the reader to feel completely immersed in the story.
As they make their long journey, they encounter kindness from many people beginning with 2 hands to lift them up from their overcrowded boat to safety and food. Once on land, they are given beds, books, and many other gifts to make them feel welcome. Every number is about a positive feeling and I particularly liked '5 wishes giving us hope' with one child sitting alongside a bird looking out from a lighted window across the starry night sky.  A special day comes when the children start at a new school, welcomed by a friendly looking teacher and a banner of 9 hearts across the entrance, The last counting double page spread shows them playing football with 10 smiling friends. 
The final pages provide some basic information about refugees and another strong image of adults and children enjoying being part of a community. The readers are encouraged to think of ways to be kind which will be a great stimulus for some follow up creative work. 
People with young children will know that favourite stories are read many times and each time, children spot new details and angles that might not be noticed by an adult. This is a good example of a multi- layered text which will be enjoyed and returned to many times. It deserves a place in every Early Years setting alongside others that do the job well about the refugee experience.   
Karen Argent
June 2020