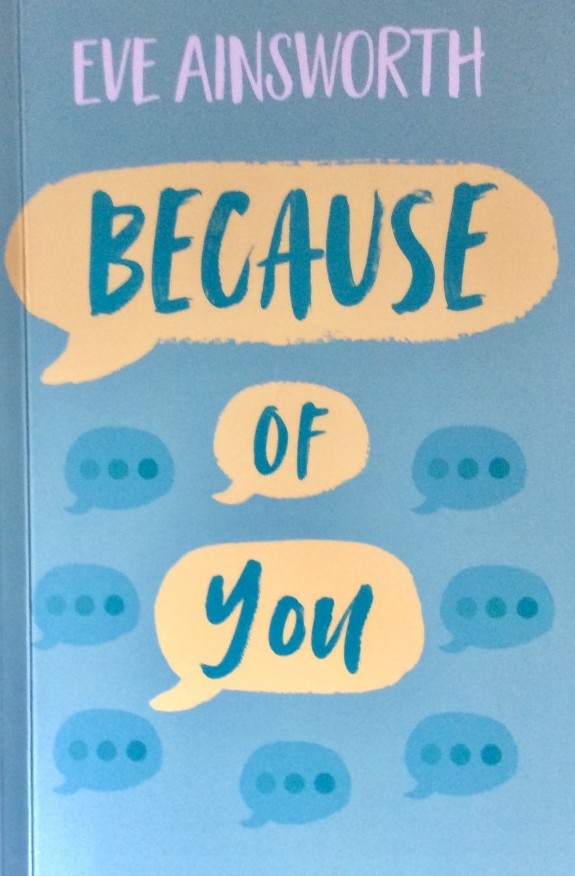 posted on 25 Aug 2019
Because of You by Eve Ainsworth
Poppy is not a happy young woman. Her parents have split up and she is missing her dad very badly, even though she sort of understands why her mum threw him out. Up until now, she thought that she and her mum were coping just fine and she even hopes that one day her dad might get himself together and return to live with them again. They could be a happy little family. But this is just a silly dream because mum's new boyfriend, Richie has just moved into the house and seems determined to be upbeat and positive.  He has brought his daughter Kayla to join the newly configured family who Poppy finds to be irritatingly sophisticated. The story opens with her resentment and furious jealousy bubbling over as she watches them both arrive from the safety of her bedroom window:
'I can't stand how smug he looks as he loops his arm around Mum's waist and kisses her cheek. He looks like he already owns the place, and Mum too. And look at Mum – giggling like a girl. It turns my stomach. So pathetic'.
School is no escape from her problems because when she leaps to the defence of another girl who is being bullied, the group of very spiteful girls turn their attention onto Poppy and then use their phones to fan online hatred against her which escalates alarmingly. She feels pretty friendless and desperate as a result. The story shows how friendships can be fickle and influenced by dominating personalities at this age. As an adult reader, I found myself getting impatient with the pettiness of it all but then I was lucky enough not to ever be picked on and always had at least a few constant  friends. I of course know how destructive and isolating this kind of bullying can be, particularly with an online dimension to ratchet up and spread the hatred, with sometimes tragic results. 
The group of nasty girls step up the action and humiliate Poppy in the school canteen (they wait for the on duty teacher to be otherwise occupied). A video of the incident is posted and liked by lots of people and Poppy really doesn't know which way to turn for help. Even her dad seems to be disorganised, distracted and unreliable, despite his many promises. She keeps trying to contact him but he rarely responds. When he fails to turn up for a promised Saturday football match treat, she feels completely abandoned.
The award winning author shows great sensitivity for young people who are experiencing difficulties at home and school, probably because she has a background in working for secondary schools in pastoral and child protection roles.  Poppy is convincingly drawn as a troubled but feisty character who eventually recognises her own failings and her potential strengths in making the best of the situation in which she finds herself. Although she is self- centred and angry at first, she comes to realise that even Kayla and Richie might be on her side.
As ever, Barrington Stoke is a publisher that provides accessible stories with punchy and relevant themes that many teenage readers will identify with.  Apart from the obvious opportunities to talk about the challenges and advantages of becoming a 'blended' family as well as the perils of cyber – bullying, this is a pacey story with a range of interesting characters throughout.  Strongly recommended.
Karen Argent
August 2019