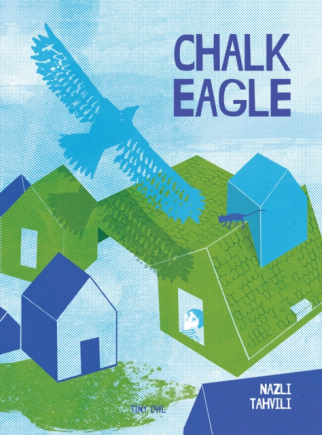 posted on 05 Mar 2019
Chalk Eagle by Nazli Tahvili
A small boy living in the city can only dream of the freedom of flying in the wide spaces of the sky, soaring over green, open fields. He climbs up onto the roof of his house, lies on his back and watches an eagle as it rides the air currents, swooping and gliding – the absolute embodiment of freedom.
He takes out his stick of chalk and draws his own eagle on the roof and lets his imagination bring his drawing to life. What if he could ride the back of his own giant eagle – what would he see? He takes up his chalk again and draws his own portrait so that he can join the chalk eagle and ride in the blue of the sky.
There are no longer any limits to the boy's imagination – in his mind he flies, free and elemental.
And most astonishing of all – this is a book without words. Nazli Tahvili's beautiful silkscreen illustrations do all the work and speak even more eloquently than any prose could. Blues and greens of all shades and intensities come together to give a fabulously textured series of images that reflect the author's desire to represent the blueness of the sky and the greenness of the grass. I especially like the way the artist gives us quite different perspectives to look at - one moment we're next to the boy, then we see with the eye of the eagle as we look down on the town and then we're with the boy on our backs looking into the blue sky above. It's all an exhilarating experience.
Iranian artist, Tahvili, was inspired to create her story by her husband Amin's experiences as a young boy when he too would draw his own chalk eagle on which his imagination could take a ride.
Tahvili learned her craft at Azad University in Tehran and then at the Academy of Fine Arts in Bologna, Italy. The publisher of this book, Tiny Owl deserve huge credit for bringing such fabulous books and artwork to us here in the UK – without their efforts how else would we ever get the chance to see what riches there are we can share in from a country like Iran?
Terry Potter
March 2019
(Click on any of the images below to view them in a slide show format)