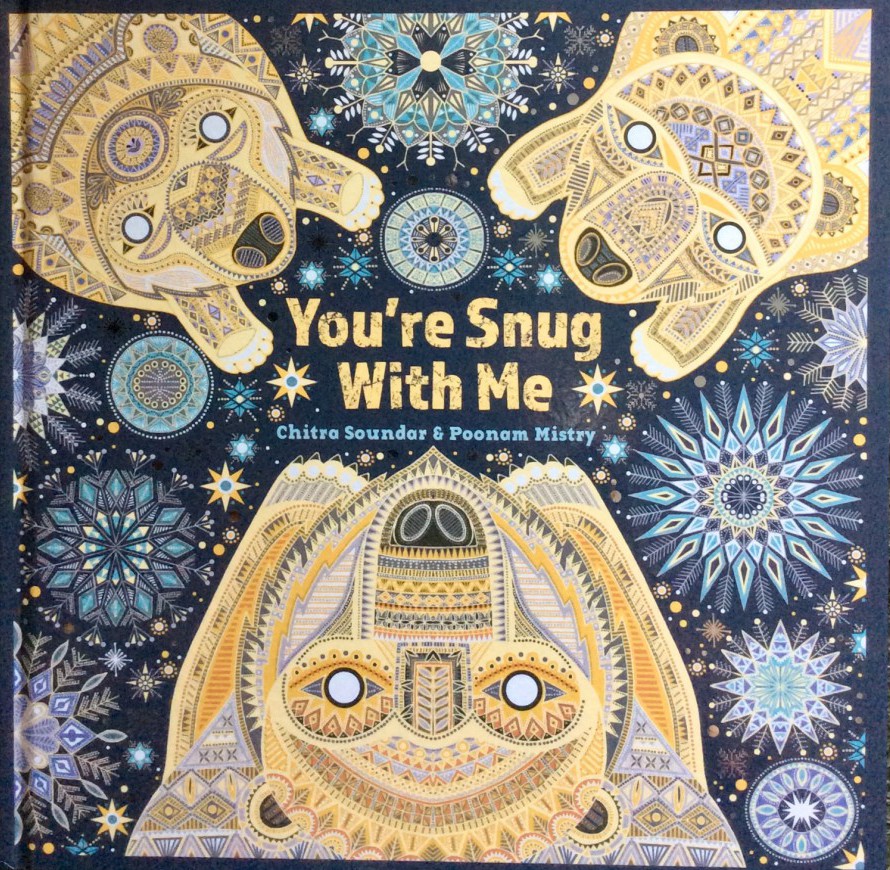 posted on 28 Oct 2018
You're Snug With Me by Chitra Soundar, illustrated by Poonam Mistry
This is the second impressive picture book collaboration between this author and illustrator - the first, You're Safe With Me, is reviewed elsewhere on this website. It is not a sequel but has a similarly reassuring theme and also has the familiar highly decorative cover, this time using a different colour palette of cool blues, silvers and shades of gold, showing three stylised animals facing into the title at the centre.
As in 'You're Safe With Me', the text is minimal with carefully chosen words to cast a gentle spell over the reader. At first we see the two Polar bear cubs curled up inside their mother as she sleeps in her winter den with the falling snow visible not far from the sea. Once the cubs are born, she licks them and begins the soft chant "You're snug with me" which is repeated throughout the story. As they snuggle into their safe winter quarters she tells them about the wonderful land of ice and snow that they will explore once the harsh weather is over. As with all young creatures, the cubs are very curious about the world outside and, as with all caring parents, the mother bear does her best to answer their many questions.  She concisely explains about the rhythm of the seasons:
'The Earth dances on her toes and when she tilts, our nights will get shorter and spring will return.'
As they learn about the many other creatures that they will share the world with, she gives them confidence by telling them that them that:
'We are the biggest and bravest of all the creatures on the ice.'
The author tells us in an afterword that she 'wrote this book to show the wonders of our polar lands' and to inspire the reader 'to be curious about where you live and with whom you share these lands, skies and oceans'.  The messages about respecting the natural environment are woven throughout their many conversations as well as letting them know that she will always take care of them.  Once spring eventually arrives, they venture outside and explore the bright sparkling exciting world together:
'Mama Bear watched her cubs take their first steps on the snow and whispered,
"You're snug with me."     
It is a great accomplishment to somehow convey cosiness, warmth and safety despite the cold wintry landscapes that are depicted. Lantana Publishing prides itself on always providing a positive aesthetic experience for the reader and the distinctive illustrations in this one are  sumptuous. Each double page spread allows the eye to pause and relish the intricate patterns and marvel at how the illustrator has used repeated patterns and shapes to convey a variety of movement and depth. The colour palette is limited but used in many different ways so that, for example, some fonts are black against a gold background whilst others are white against a dark blue background. As with all good picture books, the carefully chosen text does not try to just describe what is shown visually, but instead adds to and complements the illustrations.
Readers of all ages will be fascinated by the beautiful illustrations and I am looking forward to using it with older children to stimulate some interesting conversations and highly detailed drawings. I also think that this is a special picture book that deserves to be treasured as a bedtime favourite with younger children to inspire happy and imaginative dreams.
Karen Argent
October 2018
(Click on this link to view the images in a slide show format)