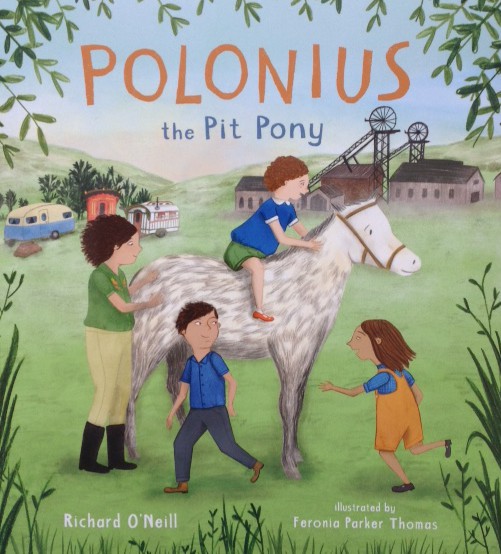 posted on 06 Aug 2018
Polonius the Pit Pony by Richard O'Neill illustrated by Feronia Parker Thomas
I was eager to read this picture book with a text by Richard O'Neill, a storyteller of renown from a Traveller heritage, because it is so clearly influenced by his own background. The blurb on the back tells us that it's a tale about a brave pit pony, the telling of which is influenced by real events, and this is almost certainly down to the fact that O'Neill was born into a travelling family whose roots lie in the mining communities of the North-East of England. So the tale of Polonius the Pit Pony  immediately has the stamp of authenticity that comes from someone writing about a world they know so well.
I had no idea that pit ponies were still being used right up to 1999 and that these brave and sometimes exploited animals spent the vast majority of their lives underground. At the peak of their use just before the outbreak of World War One there were some 70,000 ponies in pits across the country and although better safety regulations came into force over time, it remained a hazardous job that the ponies undertook.
In this story, Polonius has come to the surface for his summer break and, while he's running around in his corral, he encounters two bigger, powerful horses that belong to a Traveller family who have camped alongside. The freedom experienced by two big horses, Cushy and Thor, inspire Polonius to run away to freedom – which he does, trying to join the travelling family. When he's returned to the pit by Granddad, the pit owner tells him to keep the pony because once the animal had experienced freedom he would be no use down the pit. One of the Traveller children, Lucretia, begs to be allowed to keep the pony as a pet more than a working horse.
Although Polonius resolves to be happy giving the children rides, he longs to be as useful and admired as Cushy and Thor but he doesn't think he will ever get his chance to be a hero. But then one day, when the family need to deliver a load of chairs they have made to the docks for export, disaster strikes. Thick fog has come down and there seems no way they will be able to find their way to the coast safely – until Polonius steps in.
I'm not going to spoil this by telling how Polonius makes himself into the hero of the day and becomes a family legend - you'll have to read the book to find out.
Bold, colourful, uncomplicated illustrations help paint the story and fill in detail and there's a nice balance between drawings that bleed off the edges of the page and those contained in rectangular or oval frames.
It's especially nice to have a book that doesn't problematize the Traveller community and presents them instead as honest, warm people with a strong culture of their own. O'Neill includes some Traveller vocabulary that isn't 'translated' for us but which is straight-forward enough to work out when you read it aloud – and again it adds a splash of authenticity to the text.
You can have a go at working out 'a life of jallin the drom' or stopping for 'some habben and besh'…..
Accessible social history, information about the culture of an often marginalised community, an heroic pit pony – what more could you ask for in one picture book?
Terry Potter
August 2018
(click on any image below to view them in a slideshow format )