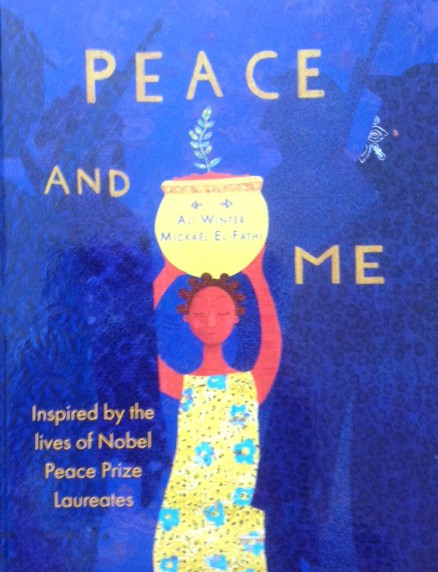 posted on 08 Jul 2018
Peace and Me: Inspired by the lives of Nobel Peace Prize Laureates with text by Ali Winter and illustrations by  Mickaël El Fathi
Lantana Publishing have a mission to bring us beautiful children's books from writers and illustrators with diverse and international backgrounds. It's a fabulous ethos that informs their business and every publication I've seen is a treat for the eyes and for the imagination.
This latest picture book, endorsed by Amnesty International, brings us a selection of short life-stories profiling winners of the Nobel Peace Prize – and, boy, do we live in a time when children need some inspiring stories of peaceful coexistence.
The selection of prize winners is taken from years that span the whole of the 20th and 21st century – there are 12 that have been chosen – and there's the addition of a profile of Alfred Nobel himself. The story of why Nobel created the prize as a counter-balance to the use for destructive and warlike purposes of his most famous invention, dynamite, is well known but I think many of the Peace Prize winners have a much less familiar biography. So it's good that some less well-known recipients of the honour are given a showcase.
One of the great things about books like this, which will be marketed as a 'children's book' and kept in the children's section of a bookshop, is that they can actually have great appeal to adults. I'm pretty ancient now and I'm probably not seen as the right demographic for this book but I love it and I found out plenty of information I had no idea about before starting to think about this review.
Who knew that Fridtjof Nansen ( 'Nansen of the North' as he was always referred to when I was a boy) was also the saviour of up to half a million prisoners of war who needed help returning to their homes? Or that he helped millions of refugees:
"One of the biggest hurdles Fridtjof faced was that many refugees lacked identity papers to prove their nationality. He invented the 'Nansen passport', a certificate that allowed them to travel freely across borders between countries. It was approved by over fifty governments."
There's a lesson in here for us today as we ponder how to deal with our current refugee issues – it's an important example of how, despite what we might think, our problems are not unique and people have faced and overcome similar issues before. Is it really beyond us to take a leaf from Nansen's book and take a sane, humane approach to the needs of refugees and asylum-seekers?
I also knew too little about John Boyd Orr of Brechin and his work to avoid mass starvation or Rigoberta Menchu Tum and her battle for indigenous Mayan rights in Guatemala – so, again, my thanks to author and illustrator for filling in gaps in my knowledge. Of course, not all of the life stories are hidden – there are plenty of well-known campaigners here, including Martin Luther King, Desmond Tutu and Malala Yousafzai who will be much more familiar names for younger readers.
Mickaël El Fathi's illustrations are beautiful and inventive and bend themselves around the text, spreading over double page spreads and bleeding right off the edges of the page. The texture of the drawings is also interesting – they look rather like the embroidery, felt work or applique that you often see used to make pictures on fabric by community artists in many different parts of the world.
The book is a must have for classrooms or school libraries and maybe as a gift for reading at home. If you're an adult and you buy it for a child, do yourself a favour and buy two so that you can keep one for your own pleasure.
 Terry Potter
July 2018
(click on any image below to view them in a slide show format)