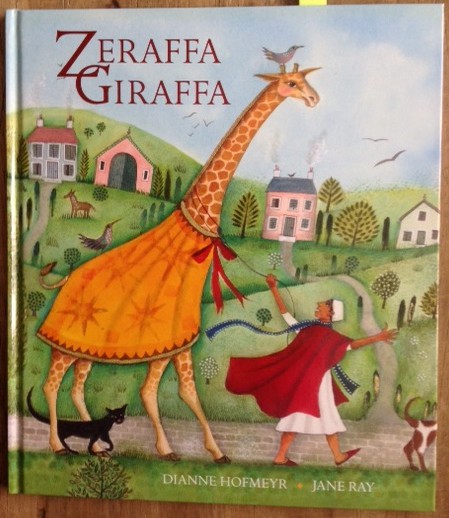 posted on 25 Jun 2018
Enjoying  Zeraffa Giraffa  ( a book written by Dianne Hofmeyr and illustrated by Jane Ray)
After the resounding success of using The Lost Happy Endings last week with a group of Year Three children at Somers Park Primary School in Malvern, I decided to try sharing another one by the same illustrator, but with a different group.
I was greeted with great enthusiasm, which is always a positive start to any activity. The children in the classes now know me as 'The Book Lady' and are always keen to reassure me that they love books, which is guaranteed to put me in a good mood. This story is based on true events which are concisely explained as an afterword. We all agreed that, although very interesting, the factual account was much improved by the beautiful detailed illustrations by Jane Ray. It is a simple story about how an Egyptian ruler wanted to give an unusual gift to the King of France in 1824. He decided to send him a small giraffe captured from the plains of Africa to Paris, which apparently took two and a half years to arrive. Zeraffa the giraffe is accompanied by Atir, a young servant boy who is devoted to making the long journey comfortable as it involves travelling by felucca up the Nile, then across the Mediterranean Sea in a big sailing ship, and then 550 miles walking overland between Marsailles and Paris. Everywhere they go they are greeted by enthusiastic people who are enthralled by this curious never seen before creature. We talked about how a giraffe is such an extraordinary looking animal that has evolved to be able to reach the leaves of the highest trees, and how its strong distinctive markings make it special. Seeing one close up for the first time would be a memorable experience.  I was reminded of the first time my little brother visited the zoo at the age of about two years old, looked up from the ground at the huge body and long neck of a giraffe and then exclaimed in delight 'There's a head on top!'
Once Zeraffa arrived in Paris – a giraffe craze begun which included giraffe shaped biscuits, giraffe shaped topiary and women having hairstyles that were so high they were forced to lie down in their carriages. All this information kept the children engrossed and I also tried to linger over the illustrations so that they could soak up the detail and appreciate the exquisite colour and overall design.
When I had finished reading we had a short discussion about what they had liked about the book and then they were keen to write letters of appreciation to Jane Ray using silver and gold pens because she is an illustrator who uses these colours to embellish much of her work.
Despite being a bit rushed ( again) I was pleased to read their very positive comments and to be impressed with some excellent art work that included confidently drawn giraffes that were far better than any that I could attempt. Lucy explained that 'I'm going to look for another book illustrated by you' and Hope just couldn't decide which one was her favourite picture as all were 'brilliant'. Izaak was impressed with her use of colours 'because they carry on until the end of the page' and he was also curious to know whether she drew the pictures first or just painted them. Imogen praised all the giraffe patterns and illustrated her own letter with six different giraffes. Samuel was keen to know if she had a favourite page and also how much she liked giraffes. Szymon was interested to know 'how are you so good at drawing?' and whether she had to experiment with her style. These are all serious and well considered questions so I will be posting the letters to Jane and hoping that she might have time to respond.
I look forward to exploring another picture book with a different group in the near future – it is a great pleasure for them to have time to look closely and have some in depth conversation with one another.
Karen Argent
June 2018
(click on any image below to view them in a slide show format)