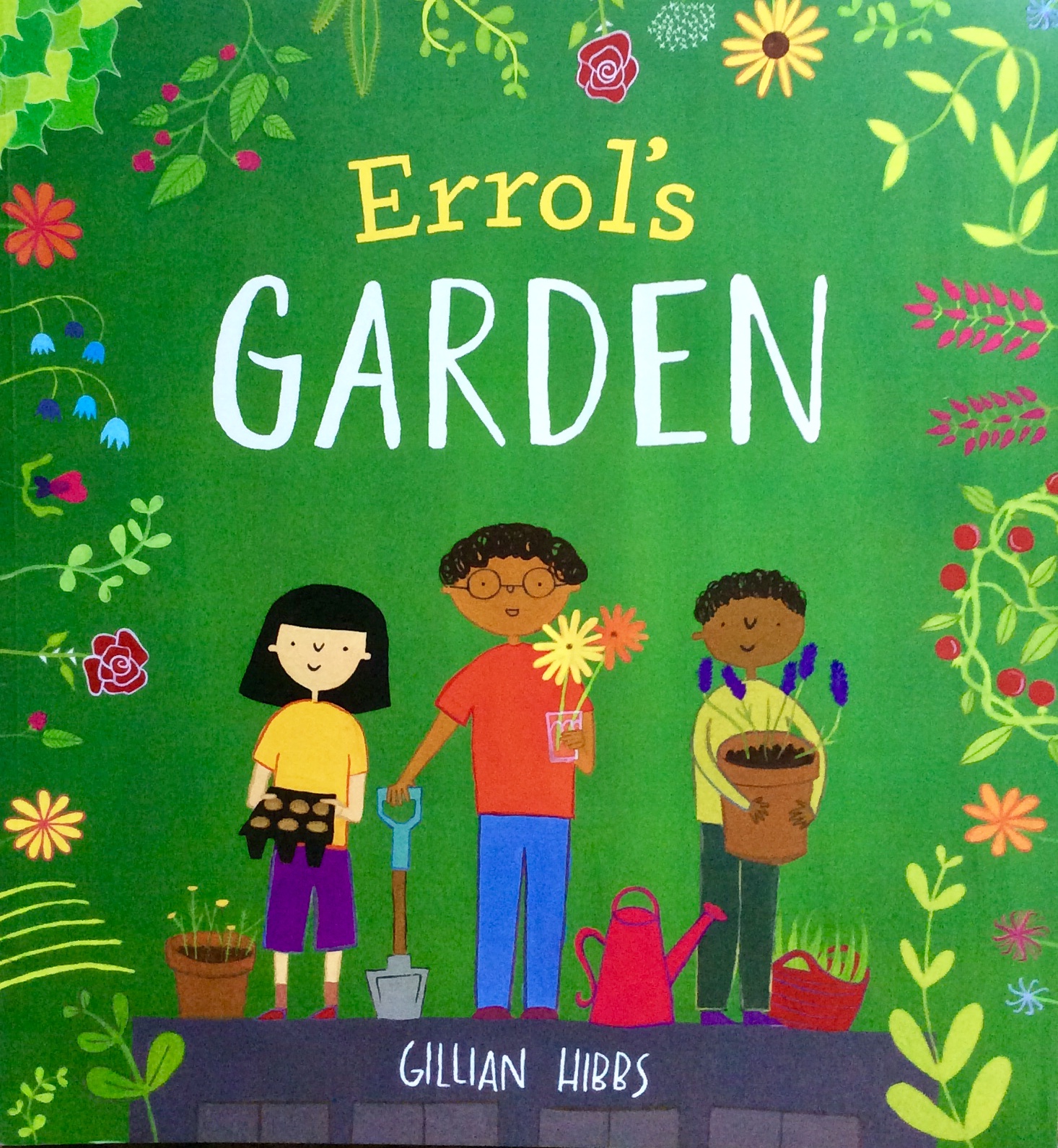 posted on 24 Jun 2018
Errol's Garden by Gillian Hibbs
What can you do if you love growing things but you don't have a garden at home? This beautiful picture book is a great example of how minimal text alongside bold and detailed illustrations can get across an optimistic and practical solution and at the same time carry some powerful subliminal messages.
The cover shows Errol standing centre stage with two friends facing out and smiling confidently. They are all holding flowers at various stages of growth and the watering can and spade show that this must have been achieved by some hard work and careful attention. The three children are framed by a striking border of abundant fruits and flowers against a green background. This is clearly going to be a story about a successful and very fertile garden.
It is worth mentioning that this is the first time that I have come across a picture book protagonist who is a young boy from a BME background, who also happens to wear glasses. The publisher, Childs Play has a well deserved reputation for portraying people with a wide range of characteristics which are often not included in picture books. This commitment to diversity is still relatively rare, despite it being very important for children to see images that they can relate to, as well as seeing that not everyone looks the same.
The first double page spread shows Errol with his dad who is holding his younger sister in his arms. He makes the assertive statement, 'I am very good at growing things', which reinforces the message that he is in charge of this story and is probably going to make things happen. We see on the next pages that he is running out of space because a series of small pictures show flowers and plants growing from a variety of vases and containers including saucepans and a teapot.
Children might ask at this point why Errol doesn't use a garden as well as growing things indoors but the turn of the page shows that he lives on the top floor of a block of flats. I have written before about how it is still unusual for picture books to show children living in any multi-occupied housing. This one can now be added to my very short list of picture books that show children living in flats that includes 'Lulu gets a Cat' by Anna McQuinn and 'Through my Window' by Tony Bradman, illustrated by Eileen Browne.
Errol discovers that the roof of his tower block would make a perfect garden space and so does some internet research on the computer with his dad and sister. He then sensibly decides to ask other people in the building about how to turn his good idea into reality. This is beautifully shown by a double page spread that might have the title 'community consultation'.
I also like the way that the author has managed to include such a wide range of people in this ordinary tower block community. For example there are gay couples and dual heritage parents with their children, an elderly woman, a young man in a wheelchair holding a basket ball and several young hip looking people as well - so much variety to talk about. Errol's plan for the roof garden comes to fruition partly because everyone contributes in individual ways 'because there were lots of different things to do'. The last double page spread shows an aerial perspective with Errol standing looking very satisfied beside some lavender plants and several other flourishing roof gardens nearby with the message about looking forward to the future 'So, what will we grow next year?'
I rate this inclusive picture bookhighly and I will certainly be recommending it as a must have to be enjoyed in nurseries and reception classes. But as ever, it is the overall quality of the story along with the vibrant and detailed illustrations that make it really special.
Karen Argent
June 2018
( Click on any image below to view them in a slide show format )