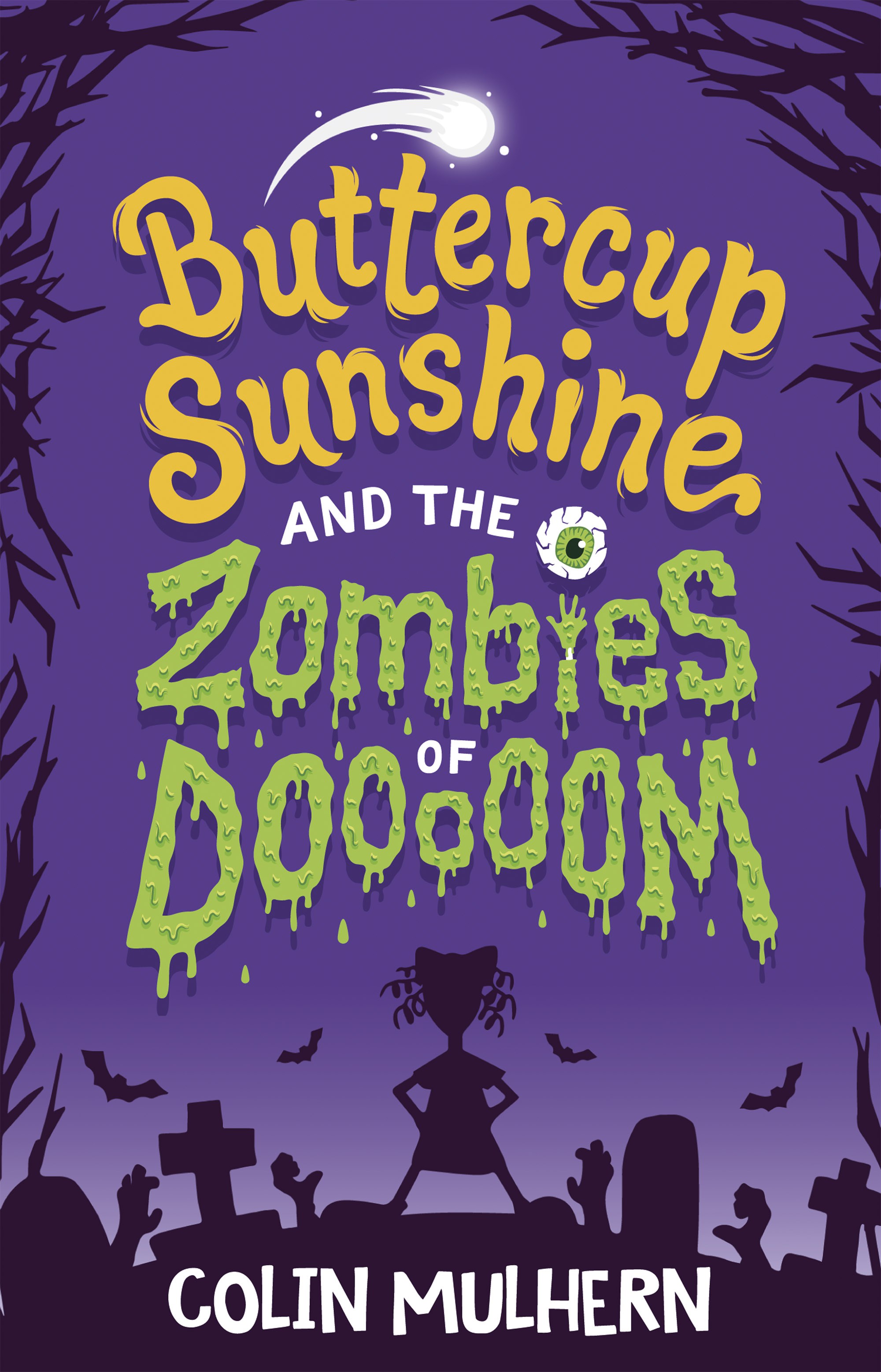 posted on 20 Jun 2018
Buttercup Sunshine and the Zombies of Doooom by Colin Mulhern
Turn off the lights, grab yourself a torch, pull the bedcovers over your head and settle down for laughs and chill-thrills with Colin Mulhern's Buttercup Sunshine and the Zombies of Doooom. Perfectly judged for 7-9 year olds who aren't too easily spooked, this book will give you a mix of zombie scares and plenty of chuckles to ensure things don't get too dark.
Picture the perfect sleepy little town where nothing ever happens; then conjure up the perfect little house and the dearest old grannie; finally, throw in an angelic little girl. Lovely, isn't it? But not for much longer. In Briar's Cove, Granny Fondant and Buttercup Sunshine are suddenly going to find themselves battling the legions of the undead.
One fateful night Buttercup witnesses an eerie green meteorite crash its way into the mysterious Forgotten Graveyard and with the sturdy, nocturnal lumberjack, Mr Blackberry, she goes off to investigate. And something strange is taking place – the graves are giving up their dead and they're really, really hungry. It's pretty obvious that sandwiches and snacks aren't going to cut it – what they want is brains!
And when one of the walking dead tries to take a bite out of Mr Blackberry, Buttercup starts to remember what she's learned about surviving the zombie apocalypse – if you're bitten you turn into a zombie yourself. So off she runs towards Granny Fondant's cottage, grabbing Mr Blackberry's chainsaw as she goes, leading the zombies, ambling very slowly, away from town.
Buttercup just knows that Granny will have a plan to overcome the hordes of the undead but isn't expecting that it will involve knitting. Will Buttercup be able to hold the zombies at bay while Granny knits-up a solution? What on Earth is the plan anyway? Are they destined to become the zombies next meal?
Well, I'm not telling. You're going to have to read the book yourself if you're going to find out just how resourceful Buttercup can be when she tries to defend the cottage against overwhelming odds.
Colin Mulhern has decorated the book with plenty of line drawings that will help to keep any young reader giggling and the book is full of the kind of jokes and crazy situations that will make children squeal with delight and adults groan with pain.
There's another Buttercup Sunshine book planned for the Spring of 2019 and I expect this will be the start of a series that will become a firm favourite in years to come.
Terry Potter
June 2018