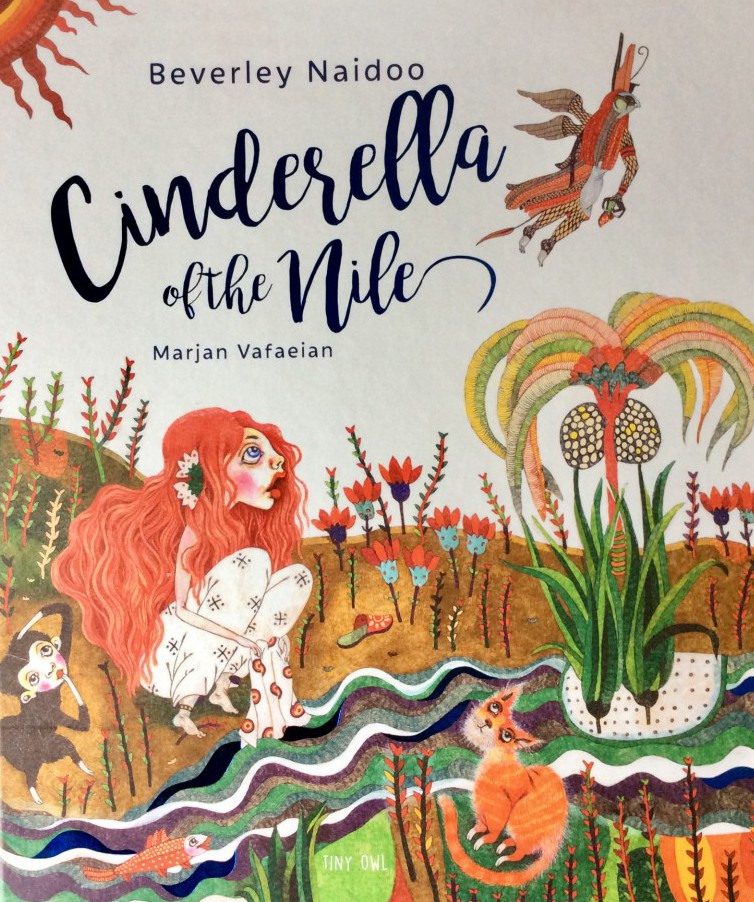 posted on 04 Jun 2018
Cinderella of the Nile by Beverley Naidoo, illustrated by Marjan Vafaeian
It is refreshing to see a beautifully illustrated new interpretation of the Cinderella story that has for too long has been dominated by the sanitised and two dimensional Disney film images which are reproduced in several children's books. This version of the story could not be more different as the heroine's name is Rhodopis ('rosy- cheeked' in Greek) and the setting moves from Greece to Egypt. As the author explains in a useful introduction, it was 'first written down over 2000 years ago by the Greek historian Strabo and, before him, Herodotus'. Naidoo was strongly influenced by her own childhood copy of the version written in French by Charles Perrault in 1667:
'My Blue Fairy Book didn't say where Cinderella lived but the illustrations suggested somewhere in Europe long ago'.
She treats us to an adventurous tale about a red haired young woman who is stolen away from her parents by a bandit and then transported in a pirate ship across the wild seas to be sold as a slave in Samos. Her first master is fascinated by her beauty and she is given light duties tending the garden where the gorgeous illustration shows her blending in as if she was an exotic flower.  Although she is terribly homesick, she soon becomes friendly with Aesop the storyteller who is a field slave in the same household. He teaches her to befriend the animals and makes her smile with his wonderful stories, but she still looks sad for the master who loses patience with her. He decides to sell her to a merchant who is travelling north to Egypt and she is given emotional strength for the unexpected journey by Aesop:
'An oak tree boasted that it was stronger
than the reeds along the bank of a river.
That night, the mighty tree was uprooted
        in a storm and crashed to earth.
The next morning, the reeds were still standing …
"We know how to bend", they whispered to the tree'.
Her next master is Charaxos, an elderly Greek merchant who treats her almost like a daughter. At this point there are some echoes with the more familiar story as three other slaves who are sisters  are treated less favourably and so begin to make her life intolerable. They rub dirt into the clothes she has washed and drop sand into the food she has prepared but nevertheless she stays strong as Aesop had advised. Charaxos is entranced with her and presents her with a gift of beautiful rose-red slippers and she continues to give him great pleasure. Meanwhile the Pharaoh issues an invitation for all his subjects to attend a feast at his palace but the three sisters choose to keep this a secret. As Rhodopis carries out the chores that would normally be shared by the sisters, Horus the Falcon swoops down and steals one of her precious slippers.  He flies down the Nile to the great palace at Memphis and drops the slipper into the hands of the Pharaoh. He declares that the owner of the slipper must be found and the long search begins to track down the woman whose foot might fit.  Rhodopis is eventually discovered and she and the Pharaoh 'lived happily together for the rest of their lives'.
I really liked the way in which this version of the story emphasised that patience and kindness were desirable qualities that would be rewarded. There was no need for fancy dresses or any magic to dazzle the would- be suitor because he recognised these important qualities in Rhodopis, as had other men before him.
The prose from this award winning author is beautifully well judged as usual and the illustrations are extraordinarily sumptuous throughout. They are integral to the story's ability to bewitch the reader with visions of dense tapestry like landscapes populated with strangely human looking animals and stylised humans that are reminiscent of Egyptian friezes, Indian miniatures and South American tapestries, but at the same time also made me think of Hieronymous Bosch. The most distinctive character is the luscious lipped, red haired Rhodopis, whom I must admit I didn't like at first because she was so doll like. However as I read the book, I came to see that this very bold representation gave her a modern and assertive personality. The Pharaoh is equally full lipped and very dark skinned, which is an interesting and authentic detail that would be interesting to discuss with children. There is so much to look at in each of the double page spreads that I can imagine they would spend time looking long and deep into the detail and would hopefully be inspired to do some artwork using similarly glorious colours and patterns. This is a jewel of a book that I hope will be widely read and enjoyed by children and adults alike. Apart from being a wonderful story in its own right there is so much potential for making links with the many other versions of Cinderella and exploring Aesop's Fables too. As Beverley Naidoo aptly points out:
'Of course, tales change when they are told and retold. That is the freedom of the storyteller. I hope that you will use the same freedom to make your own versions too'.
 Karen Argent
June 2018
( Click on any image below to view the pictures in a slide show format )