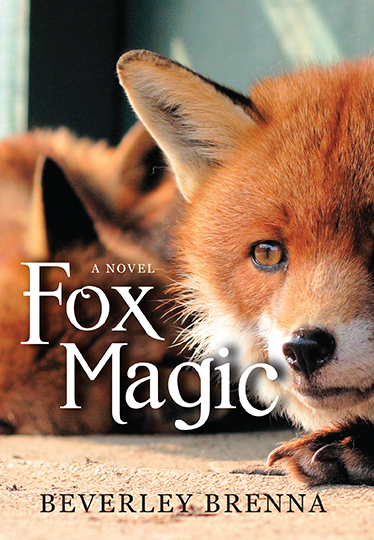 posted on 30 May 2018
Fox Magic by Beverley Brenna
"I live in Saskatchewan, Canada, and in the months before I began writing this book, our news reports were filled with stories of young people taking their own lives. As a writer and a teacher, I feel a huge responsibility to pay attention to the world around me, and to support children wherever I can."
These are the words of Beverley Brenna the author of Fox Magic talking in an interview reproduced at the end of the book about what motivated her to tackle the topic of teenage suicide.
I wanted to start with these words because although this is a book with a deeply tragic and serious subject it's important to say that it's also a fundamentally positive and optimistic book. Brenna writes not from a sensationalist or opportunist motive but because she sees literature and storytelling as essentially therapeutic, offering a chance for us to talk about topics it may be difficult, for one reason or another, to discuss.
However, no matter how praiseworthy the motives, a book still has to work as a story that engages and convinces and, I'm delighted to say that Fox Magic is also a triumph in these respects too. This is the story of Chance as told primarily through her eyes and we join her and her parents shortly after 'The Bad Thing' has happened. This turns out to be the suicide pact carried out by Chance's two best friends, Desiree and Georgia, and which had originally included Chance, who had backed out at the last moment. So Chance is not only grief stricken over the loss of her friends but also riddled with guilt over her self-perceived cowardice. It's all made even more complex in her mind because she's hidden her part in the pact from everyone – including her parents.
When we join her, Chance thinks she'll never recover from The Bad Thing and never feel better unless she eventually goes through with her promise to her friends. Her parents and teachers are naturally concerned for her mental health and do everything they can to help her through – although they don't suspect that she sits on all this guilt.
At this point Brenna does something quite daring in a young adult novel of this kind by introducing an element of magic realism into the story in the shape of a talking fox called Janet Johnson. The role of the fox is never explicitly explained and the reader is left to interpret its role for themselves. For me, the fox is that part of Chance's sub-conscious emerging to talk to her and help guide her through the pain she has to eventually confront.
So why have Chance and her friends decided that suicide is an option for them? The answer is depressingly familiar – bullying. Chance, we discover, is the recipient of a series of horrible and hateful anonymous messages slipped into her desk telling her she's a worthless outsider who would be better off dead. She thinks, as young people do at that age, that she's alone and is the only one suffering from this persecution. Until, that is, she discovers that she isn't alone and that the class seems to have plenty of other 'outsiders' who are also getting these messages because they are 'different'. Together, and with the help of a sympathetic teacher, Chance and her classmates begin to understand the solidarity and companionship that exists in this so-called difference.
Chance reaches her resolution and begins to look forward again and to build new friendships and, just as importantly, a new relationship of honesty with her parents.
The book is beautifully and dramatically illustrated by Miriam Körner with arresting full and double page drawings that perfectly evoke the spirit of the book. There's also a clutch of extras at the end of the story: I've already mentioned the interview with the author and in addition there's an afterword for readers struggling with mental health issues by Tim Claypool and the text of Robert Frost's poem 'Mending Wall' which is referenced in the text.
The back cover blurb calls this "a timely story that will help provide understanding, and open honest discussion, at home and in the classroom" and I say hear, hear to that.
Terry Potter
May 2018