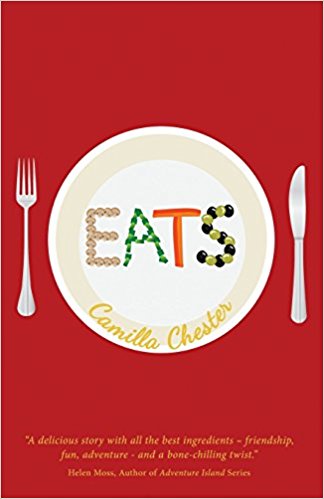 posted on 24 Mar 2018
EATS by Camilla Chester
I don't think that I have ever read a children's book with a cookery competition at its centre, which is surprising given the popular craze for various TV programmes like Master Chef and Bake Off. It turns out to be an excellent idea for a backdrop to an exciting adventure story that picks up  pace as two eleven year old boys have to use their wits to escape from the monstrous trio of celebrity chefs who were determined to keep them as prisoners in order to meet their dastardly ends.
Let us back track a bit to the beginning of the story where we first meet the two friends, Lucas Larks and Brian Tucker who live in Brocken House which is a children's home. But this isn't a story of terrible abuse or neglect – they are happy enough where they are but like most children of this age, they were becoming restless and dissatisfied with the narrow world of their childhood home.
Lucas has a real passion and talent for cooking and watching 'Dinners to Die For' is a weekly TV ritual that must not be missed.  As they watch the latest episode, he and Tucker are thrilled to find out that they can enter a competition to win a chance to stay for a whole weekend with the three celebrity chefs at Mouthful Mansions where the series is filmed - followed by a course at a Cookery School in Italy.
Seeing this as an opportunity to escape from their hum-drum life means that they need to get their cookery act together and eventually produce a stunning video entry. Lucas is a vegetarian (and the best cook) but is nevertheless determined to impress the meat loving  judges and also to trick them into assuming that Tucker is equally skilled because the two best friend want to start their new and exciting life together. It all pays off beautifully as they win the competition and are waved-off as passengers in a limousine with a chauffeur by other very jealous children and kind carers.
What could possibly go wrong you might ask? At first the boys are overawed with the moated magnificent house and the splendid four-poster beds in their bedrooms. They meet their very eccentric hosts: Leonardo De' Larfio, Larissa Partnum- Nokes, and Phil Feathers who soon turn out to be not only larger than life but also pretty ghastly and very greedy. They also meet the mysterious Christo who appears to be a sorry looking character, 'bent in a long curve like a banana'. It seems to be Christo who does all the marvellous cooking at first, that is until the two boys are roped in to show off their culinary skills. At first they are star-struck and over excited so don't mind at all, but then it seems that they are also expected to do an awful lot of cleaning. They also become a bit mystified by all the secret meetings that seem to be taking place, especially when they are locked in their bedrooms
After a couple of days they discover the cages in the dark basement under the house and then they really start to get worried. When are they going to be taken to Italy? What on earth does the acronym EATS mean? I recommend that you read it for yourself to find out more as I am not going to reveal any more information as this would spoil your enjoyment of this very original story. It includes some truly frightening Dahl like characters who hate children, the thrill of a chase through the woods, an empathetic relationship between Lucas and a huge Orang-utan, and two strong funny very creative boys at the centre who emerge as heroes.
If you can't find your copy in a local bookstore, you can get a copy from the authors website: https://www.camillachester.com/
Karen Argent
March 2018