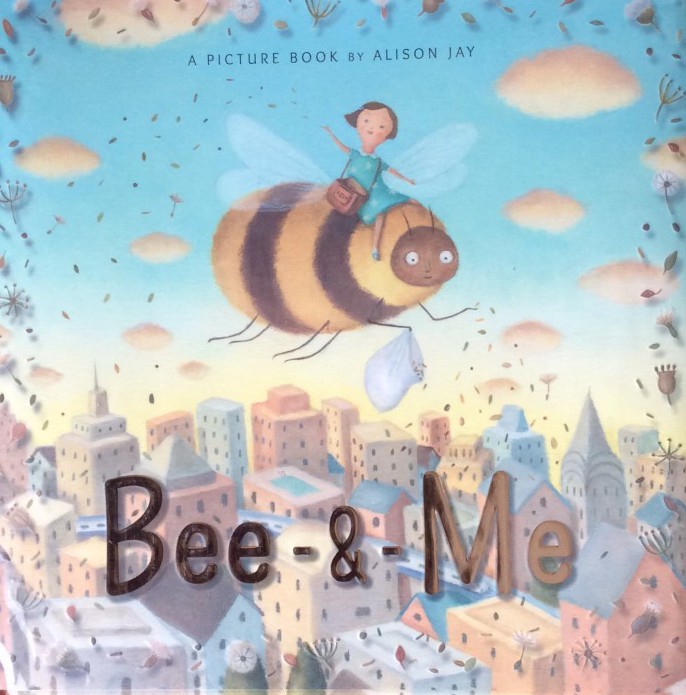 posted on 16 Jul 2017
Bee & Me by Alison Jay
This beautifully illustrated wordless picture book manages to convey so many strong messages about the importance of the changing seasons, the effects of the weather, looking after the natural world and the key role played by bees and other insects in the life cycle of plants. Apart from all this it is also a story about kindness and friendship as a little girl overcomes her initial fear of a bee coming through the window of her tower block flat and she learns how to look after him.
Alison Jay is a well- established award winning illustrator renowned for her decorative style and glowing colours. This is the first time that she has illustrated her own story and it is a resounding success because this gives it a feeling of care and control with plenty of detail alongside spaces to allow the reader to fill the gaps, as in all good picture books.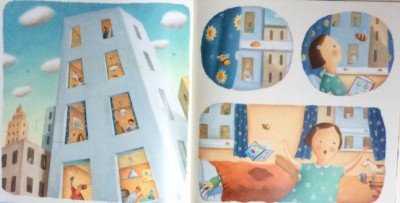 The front cover is bordered with wild flowers superimposed on a city landscape and shows the exuberant feeling of flying on the back of a huge bumble bee as it scatters seeds from a bag . The girl isn't even holding on but spreads her arms wide as she smiles out at us. When my two year old grand -daughter saw this she said 'Like the snowman' which I thought was an interesting connection with the great picture book classic by Raymond Briggs. Although a very different illustrative style, this is a similarly fantastic story about sharing very different perspectives on a world and learning from one another.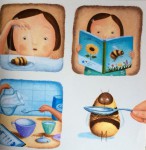 The first double page spread takes us down closer to ground level and we see the city packed with buildings, roads, vehicles and people. Then we hone in to one building and one window in a tower block filled with busy people and loop in with a bee as he disturbs a girl reading her book about flowers.  This is so animated that I can almost hear the buzz, feel the heat and hear her cry as she jumps up in fright – very clever.
The format changes to four pictures per page as she realises that the bee is not going to hurt her and so sets about reviving him with some sugar water (information gained from her book). She releases him back out of the window but later there is a dramatic storm and he returns wet and bedraggled for some more attention and care. Although it is not explicitly stated, it seems that he is beginning to benefit from all the sugar water and is growing healthy, happy and increasingly huge in size.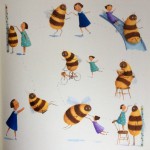 The relationship flourishes further and the format changes again to show little pictures depicting moments in their developing friendship. They enjoy the pleasures of bike riding, picnics, dancing and playing together as he continues to grow bigger and bigger.
Then one full page illustration shows that autumn has arrived and the owner of a florist shop looks understandably alarmed as she sees the girl with a man sized bee gazing wistfully at the display of flowers in the window.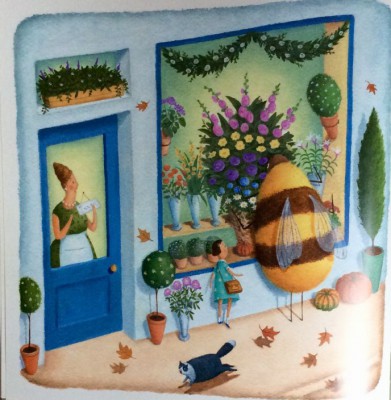 It is clearly time to take a look at the world from his point of view and so off they go on an adventure to the countryside where he shows her how to gather seeds from the flowers in a meadow. I like the way that this illustration is framed in an arch, almost like a Renaissance painting, with the bee flying down in from the left corner and then up again from the right corner to provide emphasised symmetry and focus.
Back to the city again having scattered the seeds far and wide and then the bee makes his farewells because the weather is getting too cold. Time passes, plenty of snow followed by spring rain and sunshine means that the seeds grow well, not just in the girl's window box but throughout the city. Once summer has come around again, a final circular framed picture shows the bee (now wearing a crown because he is obviously rather a significant insect) celebrating with the girl and her friend in a flower packed city meadow. Perfect.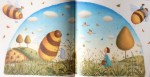 I stumbled across this picture book in an independent bookshop a few months ago and haven't noticed it in more mainstream outlets which is a shame. I have used it with groups of children in schools who loved it and were inspired to go outside to look for bees.  But one reading is not sufficient to appreciate the many layers of the story and to be able to dive deep into the pictures, respond to the humour and enjoy the unfolding imaginative tale of a lifelong friendship between the bee and the girl. The gorgeous detail on every page is best appreciated by close looking and repetitive reading – this makes it one to treasure and it is a gift book that I would recommend for any child or adult who loves to handle a beautiful book. 
Karen Argent
July 2017