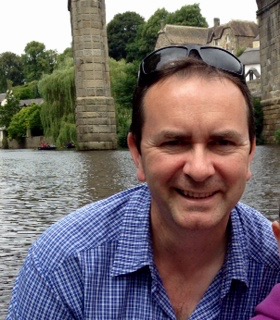 posted on 02 Nov 2016
Two poems from Steve Williams
Having taught high school English for over fifteen years, Steve Williams knows his way around a rhyming couplet. He is the writer behind www.jiggerypoetry.com, a personalised poetry service that launched this year, and his first book, 'A Midsummer's Ice Cream and other Poems' is due out soon.
Steve has written comedy poetry for family, friends and colleagues for a number of years and is currently dipping his toe in the performance poetry and spoken word scene in Yorkshire as well as running writing workshops in schools and libraries.
He is married, has one daughter and lives in Yorkshire.
Oi Poppins!
Oi, Poppins - where'd you get that swag?
The lamp stand and the mirror
Poking out of your carpet bag.
And that magical umbrella
With the parrot on the end,
That flies you over London
To your chimney-sweeping friend.
Listen, Poppins - don't get clever with me.
Now how do you explain
Zooming children up a chimney?
And would you like to tell me
With whom you are acquainting?
No, don't fly over there
And start jumping in that painting!
Ok, Poppins - what's really on that spoon?
I can't believe it's medicine
They fell asleep too soon.
I have a deep distrust of nannies
That use big words I can't say
And people who claim that they're
Practically perfect in every way.
Right Poppins - weren't you once a nun?
Escaping from the Nazis,
Took a family on the run?
Didn't you dress them up in curtains?
And go dancing around the fountains?
Last seen in the Alps
Singing Do-Ray-Me up mountains?
Oi, Poppins - tell me how you plead.
Tuppence a bag won't get you far
With all those birds to feed
Now spit-spot, step in time
'Cos I haven't got all night.
And don't you dare tell me
To go and fly my kite.
A Midsummer's Ice Cream
The course of true love never did run smooth
For Gary and Kaz on the van.
She was the sprinkles on his 99
And he was her ice cream man.
Through the streets of the north, they had ruled uncontested
And everyone knew theirs was best.
But things were to change in that long hot July
When their love faced the ultimate test.
Italian vans were always a threat
With their opera and exotic ices.
And expensive shades and smiles from the Med
And overinflated prices.
But people round here, they knew what they liked -
Not flash with the money they made.
And this latest Romantic to challenge poor Gaz
Had his eye on more than his trade.
Luigi it was, with his tan and gelato
And eyes that lit up the street.
And try as she might, Kaz fell under his spell
And they quickly made plans to meet.
But no screwball was Gaz, he knew what was what
So he followed them into the forest.  
Of her love, he was sure, so he took a detour
And bought her some daffs from the florist.
Then there in a clearing, against the low sun,
In the scent of Italian cologne,
Kaz, in the twilight, stared at her new man
And Luigi held out a cone.
"Don't take that ice cream! He's a trickster," yelled Gaz,
As he sped through the brambles and trees.
And armed with some lollies, he jumped from the van
As cool as a blue Mr Freeze.
Kaz ran for cover; she knew what came next
As our hero reached for his pocket.
And poised like a fighter, he drew back his arm
And launched his first raspberry rocket.
Luigi just laughed when the second one came,
Amused by the Englishman's folly.
But Gaz with his pride and some back up munitions,
Took aim with a strawberry lolly.
He caught the italian right on his nose
And knocked him straight onto the floor.
Blood drizzled down his Armani apron
And he staggered in through his van door.
The forest grew still as the sun disappeared.
Had the visitor now met his match?
But the scene burst to life and when Gaz turned to look,
Luigi jumped down through his hatch.
Cornets of every size flew through the air -
A rainbow of Napoli's best
Limone, pistachio, tiramisu -
Granola, caffe and the rest.
A cider from Gaz with a choc ice to follow,
A blackcurrant Fab and a flake
But Luigi replied with a stracciatella,
And frozen italian cake.
Deep into the night, the warriors fought,
Until both nothing more they could stand.
But Gaz rose to his feet and faced up to his foe
With an icy grenade in his hand.
The Jubbly of Orange. The four-pointed bomb.
The deadliest ice in the van.
Corners of steel and razor-sharp edges -
Not one you'd take home to your gran.
And in the dawn's light as the dew kissed the ground
Gaz hurled his last chance at the clown.
Then there in the distance, beyond the trees
He saw the Italian fall down.
Kaz looked at Gaz and Gaz met her eyes
Then they watched 'til Luigi was gone
Then like fallen ice creams on a street in the sun
They melted together as one.