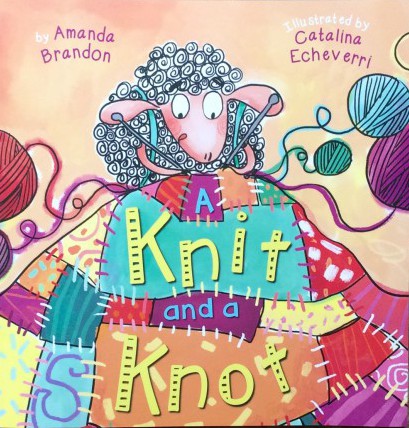 posted on 15 Oct 2016
A Knit and A Knot by Amanda Brendon, illustrated by Catalina Echeverri
This is the third in the series of picture books about Little Lionel the lamb who enjoys learning to knit with Granny Mutton. When the 'squishy squashy' red wool goes missing, he sets off outside, appropriately dressed in a Sherlock Holmes outfit, to do some detective work and eventually tracks it down. So, not exactly a big dangerous adventure but one that provides a manageable domestic problem to solve, a few memorable incidents to move the story along and a cosy resolution at the end.
What makes it special for me are the lively cartoon like illustrations which are both colourful and funny. I like the intensity of Lionel's expression on the cover as he sits with his tongue out, hunched over the knitted patchwork blanket. Balls of wool fly out at either side of him and provide a very pleasing symmetry. Before the story begins and repeated on the end papers there is a double page spread that bleeds right to the edges and shows us the rich variety of the patterned squares. 
Granny Mutton is extremely patient, calm and encouraging as she teaches Lionel which is always admirable to see in storybook adult figures. When they fail to find the missing wool, I like the way that Lionel takes charge and goes off in search of clues. In the best picture book tradition, he finds a helper, Rocky the Sheepdog, along the way and together they have an alarming encounter with a fierce bull. Eventually they follow some tiny footprints across the page and see the end of the wool peeking out from the barn. The anticipation builds as they pull together and something seems to be tugging at the other end. I won't spoil the ending for you but the mystery is eventually solved and the wool is returned to its rightful owner. Lionel proves himself to be imaginative, generous and gentle with the thief - all good qualities to emphasise. I particularly enjoyed the final double page spread where Granny and Lionel are sitting round the fire avidly knitting once more whilst Rocky sleeps with empty needles in his paws, clearly he is not a knitter and that's ok.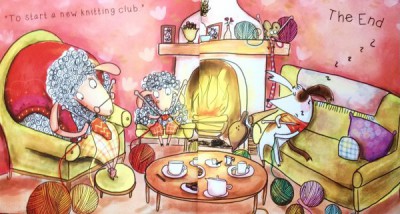 I can remember the painstaking process of learning to knit at school when I was about six years old and feeling a huge sense of achievement in eventually mastering this complicated craft skill. I doubt that it is included on the National Curriculum in England although I believe that in some other countries, like Finland it is still taught to children as an important practical subject. It is a book in celebration of the joys of knitting and perhaps I liked it because I am a knitter. Believe it or not I was making squares for a blanket when it arrived in the post and this is the first scene in the story - a strange co incidence.
I suppose that reading this might encourage children to look more closely at the different textures of woollen and other fabrics, take an interest in how they are formed, look more closely at people around them who might be knitting and even to have a go themselves? Apart from all this, it is a very warm story about family and friendship - always good ingredients for a successful picture book.
Karen Argent
October 2016