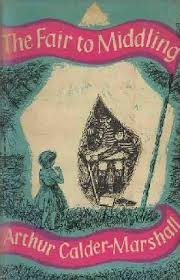 posted on 20 Sep 2016
The Strange Case of Arthur Calder-Marshall
If I was ever asked to nominate a candidate for a truly remarkable young adult novel I would almost certainly consider the case for a little know tale called The Fair To Middling. Published in 1959 it tells the story of a group of children, all of who have disabilities of one kind or another, who are given the opportunity to pay a visit to a travelling fair that has come to the village green. The fair turns out to have magic – even diabolic – qualities and all of the children are given a chance to swap their disability for 'normality'.  However, what they all discover is that the chance to change their lives is something of a 'devil's bargain' -  if they lose their disability what they will go on to achieve in life is also diminished. 
I first stumbled on this book when I was a bookseller working in the paperback department of Hudson's bookshop in Birmingham. The paperback was published by Puffin and it wasn't until much later that I discovered the existence of the really rather rare hardback edition which has a cover illustrated by the young Raymond Briggs. It's an extraordinary book to appear in the late 1950s and confounds many of the cultural assumptions of the day around the issue of disability. Maybe this also helps to explain its relative invisibility.
The book is one of three children's novels written by Arthur Calder-Marshall  (the father of the better known actress, Anna Calder-Marshall) and was just one part of an output that was, in pretty much every way, unusual,  even eccentric. Born in 1908 into a resolutely upper middle class background and educated at a minor public school, Calder-Marshall went on to Oxford where his interest in the unusual and edgy became clear – his lecture on Gilles de Rais, the notorious 15th century child killer – was banned at the time by the college and eventually published as a rather dull pamphlet.
Following a short stint in the early 1930's as a teacher in a public school (an experience that forms some of the substance for The Fair To Middling) he decided that a career as a full time writer was the way to go. At the same time, like so many of the intellectual liberals of the period, he also had a relatively brief flirtation with the Communist Party before leaving them by the end of the decade when he became disillusioned with the political path they were following. He became increasingly interested in a kind of Christian Socialism and explored some quite unusual non-fiction subjects. As the Oxford Dictionary of National Biography notes:
"Calder-Marshall wrote many documentary film scripts, a play, three books for children, and several fictions under the pseudonym of William Drummond, as well as editing editions of Thomas Paine and Jack London, among others. Notable later non-fiction includes Wish you Were Here: the Art of Donald McGill (1966), about the saucy seaside postcard artist, and Prepare to Shed them now: the Ballads of George R. Sims (1968), which comprises a substantial introduction to the life of the social reformer and sentimental balladeer who wrote 'Christmas Day in the Workhouse'. Calder-Marshall's Lewd, blasphemous and obscene: being the trials and tribulations of sundry founding fathers of today's alternative societies (1972) revives a clutch of Victorian free-speech controversies, framed by the contemporary Oz magazine obscenity trial."
As far as his work as a children's author is concerned, in addition to The Fair To Middling, a year earlier, he published The Man From Devil's Island, a story in which two Trinidadian teenagers find a young French sailor who has escaped from the penal settlement on Devil's Island and attempt to help him.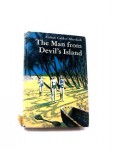 His final excursion into children's writing, or what we would now call young adult fiction, was in 1967 when he produced the extraordinary Adventures of James Bond Junior 003½. It's fair to say that although there is some dispute over the identity of the author of this book – pseudonymously authored by R.D. Mascott – the common consensus is that this is the work of Calder-Marshall. The Fleming estate, however, still refuses to confirm or deny the author's true identity. The book is aimed at an audience between 8-14 and there were attempts to produce merchandise to cash in on the idea of this junior spy – again, Calder-Marshall was well ahead of the curve on this given the recent success of Charlie Higson's young Bond series.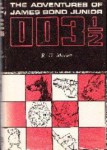 The Oxford Dictionary of National Biography  notes that  "his 1930s work has dated to some extent, but the best of his later fiction has an enduring psychological and moral finesse" and I think this is especially true of the books for young adults which all fall into this later period of his writing career. Calder Marshall died in 1992 and he really deserves to be better known  - but more than that, The Fair To Middling needs to be acknowledged as a classic of its kind and a book that is one of the first to engage in a thoughtful and provocative – even modern -  way with the issue of disability. 
Terry Potter
September 2016