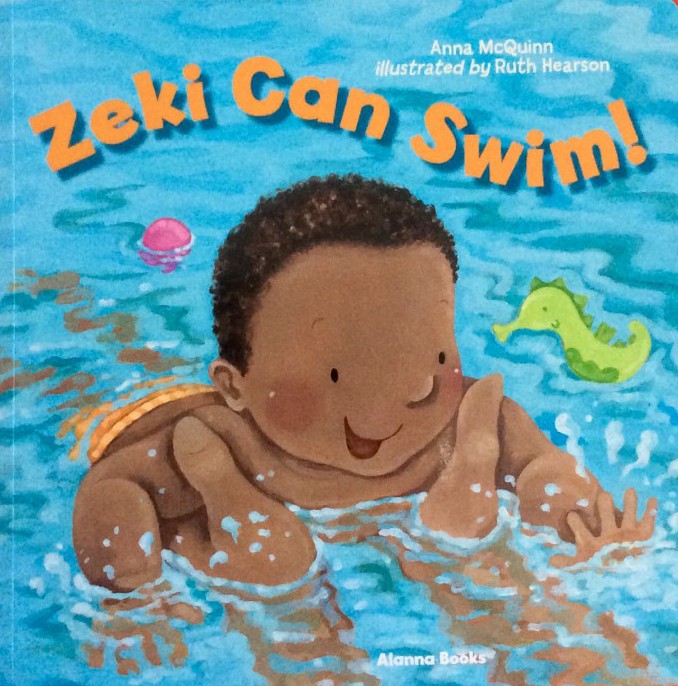 posted on 07 Aug 2016
Zeki Can Swim! by Anna McQuinn illustrated by Ruth Hearson
I love picture books that make no apologies for stating what they are all about on the cover, particularly when they make a positive statement. So, in the tradition of her many other books for very young children, Anna McQuinn lets the reader know with the bold orange wavy title that this is all about a child who can do something. The picture on the cover of the smiling little boy, Zeki is centre stage reaching out with adult hands to support him in the water. 
Zeki is the younger brother of Lulu who has a series of wonderful books all about her busy but very ordinary life and so far he has starred in Lulu Loves Zeki where his big sister introduces him to the world of books, and Zeki Loves Baby Club where he strikes out into his own exciting social world with his mum as his guide. He has a typical busy baby life and in this new story, inspired by his love of water in the bath, we see him preparing to go to a swimming class with his daddy. Books are always an important theme in all Anna's stories so it is no surprise to see them sharing one about a seahorse before they set off. Nothing unexpected happens in this story but, after all, the new routine of wearing a swim nappy, storing belongings in a locker is novel enough. Everybody smiles and looks very relaxed throughout the book and the tense anticipation of all the different babies facing out as they sit on the edge of the pool is tangible. 
Every stage of the swimming lesson is an important experience but the joy of kicking and splashing is the most delightful and the onomatopoeic  swishing and swooshing, splashing and splooshing through the water makes me want to join in, quite an achievement as I am no great lover of swimming pools!
So this a story about swimming but mostly it is a story about little Zeki having a fun time with his father. When it's time to get dry afterwards there are other interesting new experiences with the shower, having lotion applied and then enjoying a snack and a drink afterwards (or a sleep in Zeki's case - still looking very happy). Perhaps it is a touch romantic as my own memories of taking my children swimming involved a few tears, chasing them round the changing room because they wouldn't sit still to be dried and feeling quite exhausted afterwards, but maybe they were a bit older than Zeki. 
This is a splendid little book with gorgeous strongly coloured illustrations that portray a mixed group of children and adults in a naturally inclusive manner. These complement the few very carefully chosen words in the text that should be enjoyed and understood by any young child. I can't wait to share it with my grand daughter who already loves going swimming with her dad and I really look forward to seeing her beaming smile as she recognises her own experience in a book.
Karen Argent
August 2016