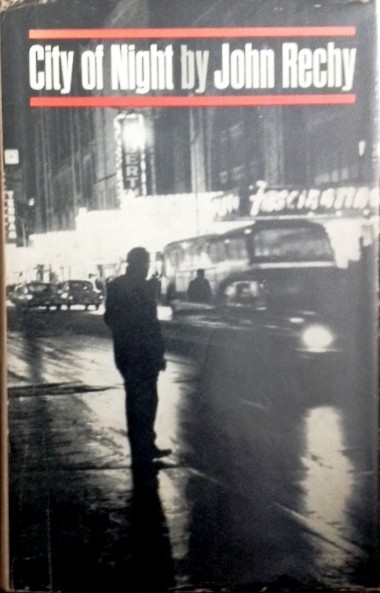 posted on 23 Jun 2022
City of Night by John Rechy
US novelist and essay writer Rechy was born in 1931 and has had to overcome plenty of adverse criticism before arriving at a point where he's now thought of as a pioneer of gay culture. City of Night, his first novel published in 1963 to a barrage of negative reviews, is probably his best known book and, with hindsight, it's pretty clear that much of the negativity was driven by prejudice towards the author and his subject matter. However, despite hostility from the literary establishment, the book was a best seller because the story of 'the youngman' – never actually named in the novel – has captured a palpable reality that is fascinating, voyeuristic, gritty and, for most people, unknown, even unknowable.
I have already referred to City of Night as a novel and, strictly speaking, it is but no-one reading the book could fail to think they are in fact reading an autobiography – and Rechy is certainly using his own experiences as the bedrock for our 'youngman'. Whenever Rechy describes someone as a 'youngman' it's actually a euphemism for a gay hustler and it's the fact that this novel opens up the world of the street hustler and gay rough trade that created such a hoo-ha with critics, readers and moralists who almost certainly had never read the book but knew its reputation. So while the book is forthright and truthful about the lives of these young men it's never pornographic – readers looking for graphic descriptions of sex will be disappointed because encounters are understood rather than described.
 Rechy structures the book around the cities the youngman visits – New York, Los Angeles, New Orleans, San Francisco – and everywhere he goes he takes his own 'city of night'. Several times he tries to leave the street life of the hustler but he's always drawn back to the dark side and the transient relationships that it generates. I was particularly struck but the loneliness of this life – whenever there's a chance of a friendship forming these youngmen recoil and sabotage it through acts of betrayal or simply by running away.
It was also striking that the stigma of gayness hangs over them and our youngman and his fellows cling to the view that they aren't actually gay but what you might call sexual entrepreneurs. If you hustle gay sex for money, you're not gay but if you do it for free or for enjoyment, you are.
There's no escaping the fact that this is a dismal and often depressing life but it's a book that keeps you turning the pages because Rechy peppers the pages with a parade of characters that are quite irresistible and almost certainly people who you'd never come across outside the pages of this book. Potential violence and just plain oddness are to be found in every city of night and certainly made me feel I've led a very sheltered life!
Gay America in the 60s was a culture that was still criminalised and stigmatised and its underground status was, of course, fertile ground for those wishing to exploit or brutalise gay men and for those earning a living through sex working. But it was also a culture in transition and Rechy captures some of this and his writing about the Los Angeles Donut Riot is a piece of history I knew nothing about. This riot took place the best part of a decade before Stonewall and could be considered the origins of the LGBT rights movement.
The Sayit website describes the incident in this way:
"Cooper Donuts was a 24-hour café in Los Angeles, and a well-known hang out for trans and gender diverse people. LA law at the time dictated that if your gender presentation did not match the gender on your ID you would be taken to jail and LGBT people were subject to campaigns of entrapment, intimidation and violence. As a result, many gay bars banned or actively discouraged trans and/or visibly gender diverse people from attending in order to avoid attracting attention and being targeted by raids. Cooper donuts however was well known for welcoming trans and gender diverse customers alongside drag queens, sex workers and others who were not welcomed in other venues and partly due to this visibility was subject to regular police raids, where numerous attendees had previously been arrested. There were rules that you must wear at least three items of clothing that match your legal gender. Raids would often involve abusive 'gender checks' where a police officer would confirm a person's sex by putting their hand down their pants in full view of anyone present…….
……10 years before Stonewall in 1959, the modern LGBT+ rights movement began with a night of queer empowerment and resistance with coffee cups flying from the hands of drag queens, as the LGBT+ community fought back against an ongoing campaign of targeted police brutality and harassment…"
If I was being a bit nit-picking, the book is probably fifty pages or so too long and there is some repetition of theme but it's also a great example of how to write successful 'faction'.
Paperbacks can be found for well under £10 and even the first edition hardbacks are buyable on second hand sites.
Terry Potter
June 2022