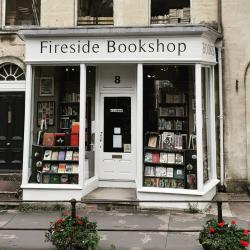 posted on 28 Nov 2021
The Fireside Bookshop, Stroud
We have been regular visitors to Stroud over the past decade and although the independent spirit of the town and its shops remain a draw, we've seen its bookshops slowly thinning out and opportunities for book hunting declining. So we were delighted to discover the arrival of The Fireside Bookshop at 8 Rowcroft, GL5 3AZ – an existing business that has relocated over the summer from Littlehampton on the south coast.
Well, Littlehampton's loss is certainly Stroud's gain and we spent an exciting first visit there this month. The shop isn't huge but every space has been cunningly utilised and the shelving is very clearly labelled – so finding your way around the stock is easy enough.
We weren't able to spend quite as much time browsing as we'll probably do in future visits for one good reason – there were a lot of other customers wanting to browse too. The shop had a good buzz and a welcoming atmosphere and it was nice to have families in there trying to get to the children's books.
The stock is in good shape and it's clear that tat isn't welcome on the shelves and there are no piles of books on the floor getting in the way. On a number of the shelves the owners have tried to display the books face-forward to highlight the cover art but that's a tactic that cuts both ways for me – it looks great but it's a bit annoying when you can't easily scan the book spines behind them.
The curb appeal of the shop is wonderful – it's got one of those fabulous bay fronts that just screams old-fashioned bookshop and lures you in. Once inside, the space one side of the bay is dedicated to women's and feminist literature – which is  a nice innovation.
Much of the stock falls into what might class as collectable and the prices are entirely fair but not cheap – you have a good chance of finding something you have been looking for but be prepared to pay up for it.
We're looking forward to our next visit but we'll probably choose a weekday rather than a Saturday because that might give us the chance for a more relaxed browse without quite so many other people to contend with.
Terry Potter
November 2021