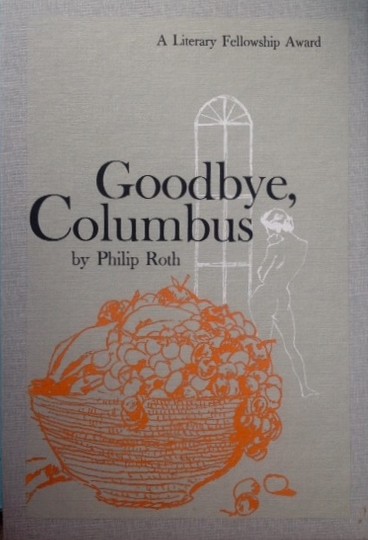 posted on 26 Apr 2021
Goodbye, Columbus by Philip Roth
A novella rather than a novel, Goodbye, Columbus was first published in The Paris Review and, combined with a handful of other short stories, it became, in 1959, Roth's first published book. Rereading it again now after a gap of several decades, I was struck by the way Goodbye, Columbus introduces us to a pretty sizeable chunk of what would be the more mature Roth's output. Admittedly, the novella doesn't have the literary sparkle that will emerge later in his career and the voice of the central character, Neil Klugman is, perhaps, a little two dimensional but what we do have here are some of Roth's classic tropes – the Jewish family, class consciousness, suburbia, sex (especially guilty sex) and ideas about the conflict between dull conformity and exciting social heresy.
The narrator of the story is Neil Klugman who is working as librarian and living with his Aunt Gladys, Uncle Max and cousin Doris in Newark. There's more than a hint of a Woody Allen script in the portrait of this essentially blue-collar Jewish family living in a neighborhood of Newark – and this introduces, almost from the outset, a strand of sardonic, verbal humour into the book. On a trip to a country club, Neil becomes fascinated by Brenda Patimkin, who goes to Radcliffe and who comes from a more  wealthy but rather more emotionally dysfunctional family in Short Hills, New Jersey. Neil and Brenda have a summer-long romance that is full of ambiguity – Neil's narration makes it clear that while he desires Brenda, he's so self-obsessed and critical of her family that he (and we) know that there can't be a long-term future for their relationship. In between, Neil finds himself embroiled in the Patimkin family dramas – her father, a semi-literate but astonishingly successful business man and Mrs Patimkin, handsome, sculpted but emotionally cold.
And because this is Philip Roth, it is inevitably sex that proves to be the rock that will ultimately cause the relationship to founder. It is the issue of a contraceptive diaphragm that comes to dominate Neil and Brenda's relationship – he demands she should get one and she resists. When ultimately she does agree to seeing the doctor, it is the diaphragm that her mother discovers in her drawer that triggers the Patimkin family rage and puts the final seal on the end of the relationship.
Narrated by Neil, much of this is in fact very funny – in a droll and, at times gloriously adolescent way. And Roth is able, even at this relatively early stage of his career, to turn a superb phrase that captures something perfectly. A good example of what I mean can be found in Neil's description of an encounter with a colleague in the library he especially despises:
"His breath smelled of hair oil and his hair of breath and when he spoke, spittle cobwebbed the corners of his mouth."
This is a novella that you can read in one or two sittings but it feels a much deeper and richer experience than that might suggest. I was especially taken by Roth's sensitivity to Neil's class awareness when he contemplates the journey from his Aunt's house to the Patimkins
 "It was, in fact, as though the hundred and eighty feet that the suburbs rose in altitude above Newark brought one closer to heaven, for the sun itself became bigger, lower, and rounder, and soon I was driving past long lawns which seemed to be twirling water on themselves, and past houses where no one sat on stoops, where lights were on but no windows open, for those inside, refusing to share the very texture of life with those of us outside, regulated with a dial the amounts of moisture that were allowed access to their skin." 
In fact Neil himself comes to life as a rounded and sympathetic character when he's away from Brenda and her family and working in the library. His determination to help and protect a young, Black boy who visits the library to obsess over a book of Gauguin paintings  is genuinely touching. It's as if the claustrophobic poison of the suburbs enriches Neil's worst instincts rather than his best.
In the end both Neil and Brenda get to have their cake and eat it. They have their summer, they have sex and then they can walk away from it all with no regrets and no damage done – no pregnancy and no ill-advised marriage. It is – in Roth's world – the perfect end.
Terry Potter
April 2021