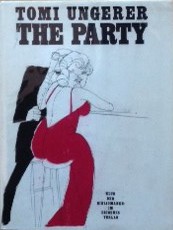 posted on 16 Jan 2017
The Party by Tomi Ungerer
Born in Strasbourg in 1931, Tomi Ungerer might well be best known as a prolific and excellent illustrator of children's books. He is also the recipient of numerous awards and prizes for his illustrations – The Hans Christian Andersen Prize and the Erich Kästner literary award amongst them. His children's books are frequently reprinted and remain as popular today as they were back in the 60s.
However, Ungerer was much more than just a children's book artist and the award of the Legion d'Honneur  in France and  the European Prize for Culture testify to that wider dimension in his work. In fact Ungerer was an important figure in the cultural underground of the 1960s and his first major solo exhibition in 1962 corresponded with him becoming active in the anti-Vietnam and civil rights movements of that time. Like many graphic artists of the period, Ungerer started producing posters and campaign material for a number of causes and spoke out against the social injustices and inequalities he saw around him.
The Party comes from this period in Ungerer's career and was produced as a self-published book in 1966 – the copy I have and the illustrations represented here come from a 1969 German version. He had been producing cartoons and caricatures for magazines such as Esquire, Life, Holiday, Harper's, Sport's Illustrated and The New York Times throughout the latter part of the 1950s in which he satirised the lives and follies of the flamboyantly rich. In The Party he takes this to it's ultimate point – skewering the behaviour of the socialite New Yorkers he witnessed on the social round.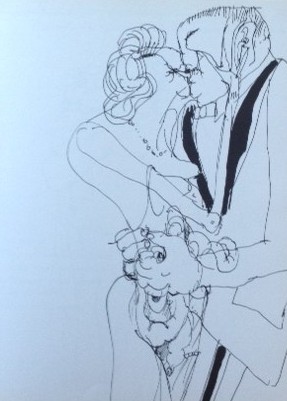 The people represented here are vicious and unforgiving grotesques – an elite of old white men and women caught off guard and at their basest. Words – there are a few - are superfluous to his purposes because the drawings carry all the bile, outrage and contempt he feels. This is the direct line of social commentary cartooning that will also eventually include Scarfe, Steadman and the like.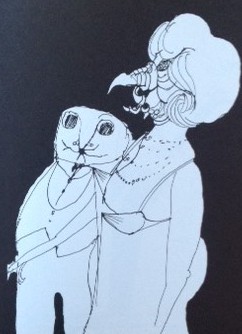 What I think is most depressing about this book is the suspicion that very little has changed and that what you see here is still being played out amongst the rich and influential today. As I write this the news bulletins are carrying stories about rich industrialists and politicians gathering to discuss the state of the world economy in Davos, Switzerland. I'm pretty certain that some version of the party Ungerer depicts here will be taking place at some point over the next few days as the super-rich decide the fate of the rest of us.
Terry Potter
January 2017