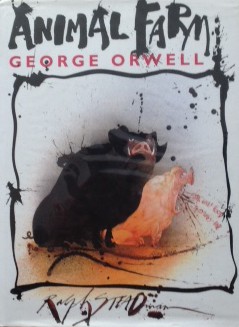 posted on 02 Apr 2016
Animal Farm by George Orwell illustrated by Ralph Steadman
Here's a a question for you: if you could bring together an author and illustrator who never met but are a perfect fit, who would you choose? Well, for me there's no question that George Orwell and Ralph Steadman belong on the same page. It's not an immediately obvious team to bring together - Orwell was rather austere in his tastes and I suspect he would have looked in a rather sideways manner at an illustrator who spent a good deal of his time roaring across America fuelled on alcohol and drugs with someone as disrutable as Hunter Thompson. But put all that aside because the two are a marriage made in heaven when it comes to a book like Animal Farm.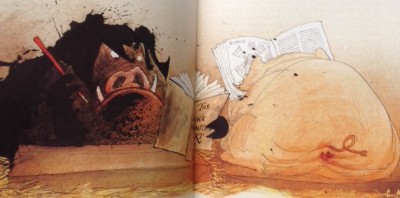 Steadman's style is made for satire - bold pen and wash images slash across the page and bring to life the passion behind Orwell's satire of Communist totalitarianism and it's fundamental betrayal of the Socialist credo. The portrayal of the pigs has to be the finest realisation of fictional characters that I have seen and the scene towards the end of the book when the pigs and humans begin to morph into one-another is so powerful that it almost doesn't needs Orwell's carefully crafted prose.
Orwell's story has been drawn before - Quentin Blake did a version for the Folio Press and Halas & Batchelor produced an animated feature film version in 1958 which was a popular cinema release. However, neither of these capture the essential violence of Orwell's tale - not only are the pigs capable of terrible violent anger, their attack dogs are not beyond the occasional assassination and it takes an artist like Steadman to keep the images dirty and real.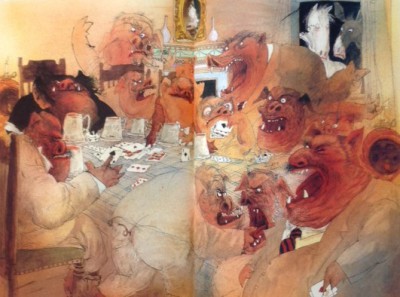 Published in 1995, this large format and glossy publication is something you can still buy for a remarkably reasonable price on the second-hand market. For a first edition you can expect to pay anything between £15 - £25 depending on condition - unbelievable.
Terry Potter
April 2016