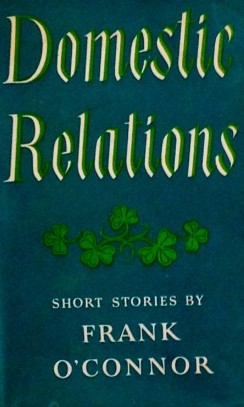 posted on 31 Jul 2015
Domestic Relations by Frank O'Connor
Try as I might, I find it hard to warm to short stories. That's not to say that I never read them or dislike them all  - I've read some absolute crackers and I love the crooked little glimpses of the world that Raymond Carver has given us. But what I mean is that I rarely think forward to my next book choice and think - yum, short stories. So when I picked up Frank O'Connor's Domestic Relations for peanuts in a charity bookshop I didn't think I'd get round to reading them for quite a while. However, by one of those odd little circumstances that happen at times, I stumbled over a short essay about O'Connor on some website or blog - I can't even remember where. It was enought to pique my interest though and the endorsement of W.B.Yeats on the fly-leaf made me put it next to my bed.
I'm glad it did. This collection of stories, originally published in 1957, is a loosely linked group of tales that are characterised by the domestic relations of the title. The 15 stories deal with glimpses of Irish life seen through the prism of ordinary domestic life. From childhood to school to work to marriage and friendship, the stories are crammed full of domestic detail and the drama of the ordinary that creates major world events out of of the everyday and turns major world events into the trifling side issues of personal relationships. 
Lurking in the background of all of these tales is the spectre of history and the Republican cause but these are never stories of spys or warfare - in Private Property , for example, a cadre of young revolutionaries fall-out over the ownership of a clock and their secret cell is exposed not because of counter-insurgency but because of an act of spiteful theft. O'Connor does not preach his politics - he slips it in slyly just when you think you're comfortable in an Irish front room or watching the fumbling efforts of people to navigate their way to marriage and family life.
His writing is also full of humour;  not the belly laugh variety but the delight of the roguish smile and the knowing wink. Even the absurd is made gentle but wicked  and the weaknesses of men are laid bare with charm rather than rancour. 
Don't look here for feverish excitement. There are no linguistic experiments or daring manipulations of prose forms. What you'll get here are very traditional short stories infused with detail and with insights into character but behind this microcosm lurk the big issues of identity, religion, gender and nationality. He's a sly one this Frank O'Connor.
Terry Potter 2015