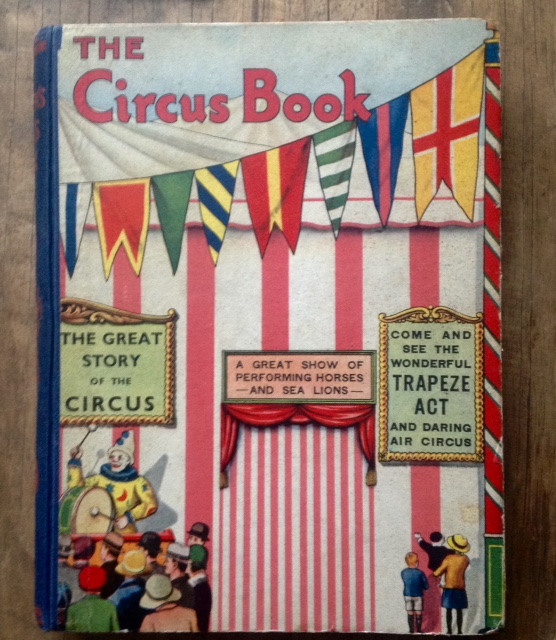 posted on 30 Apr 2021
The Circus Book by Various Authors and illustrated by Eileen Mayo & Wyndham Payne
When I was a child I lived in a working class suburb of Birmingham on a road that formed one boundary line of a local park – a park that would periodically host a travelling fair or circus. The arrival of the Billy Smart Big Top was one of those thrilling moments that stays with me - even today.
What I especially loved was the appearance of the wonderful posters that advertised the week's coming events. There has, for me, always been something very alluring about circus art featuring clowns, acrobats and animals in action and although the use of animal acts has disappeared in line with proper welfare concerns, thankfully the clowns and acrobats remain.
This dazzling, spectacular genre of popular, proletarian art is beautifully represented in this 1935 Circus Book. Given its publication date, animal acts still feature prominently in the artwork of Eileen Mayo and Wyndham Payne who capture the pre-war magic of the travelling circus but you'll be delighted to hear that there's also plenty of human carnival life here too.
The book is printed on that very thick, cheap and ultimately brittle paper characteristic of children's books of the time that were not expected to be more than ephemeral. That this one has survived in pretty good condition – bar some inevitable yellow toning of the paper – is a bit of a miracle. It's the kind of book that almost openly invites children to scribble on them or do a bit of ad hoc colouring of their own.
The contents are now, inevitably, dated and so it's probably more of historical interest to children's book fanatics than it would be to the modern child – but again I'm surprised by the amount and density of text that children's book compilers thought of as the norm. Clearly the expectation that children would concentrate for lengthy spells of reading pre-dates the arrival of television, video games and computers. What you'll find here however is an interesting attempt to mix a factual history of the circus with a series of exciting circus-based stories that embroider the historical narratives.
The illustrations are, of course, central to the impact of the book – which is why the two artists are the lead names on the publication. I've included some examples of those illustrations from my copy and I hope that they give you a sense of the, often striking, graphics. Good as many of these are, I can't help but feel the true spirit of this book is best captured by its nostalgic and thrilling front cover. Who wouldn't want to go through that candy-striped tent flap into the magnificent big top – drawn there by the array of brightly coloured pennants and the white-faced clown beating his drum?
Books like this are a chance for a bit of Proustian time travel – open the pages and be whisked back to you best memories of the circus coming to town. Copies can be found on second hand book sites and for a decent copy you'll pay a little under £20 – no more than you'd expect to pay for a new publication.
Terry Potter
April 2021