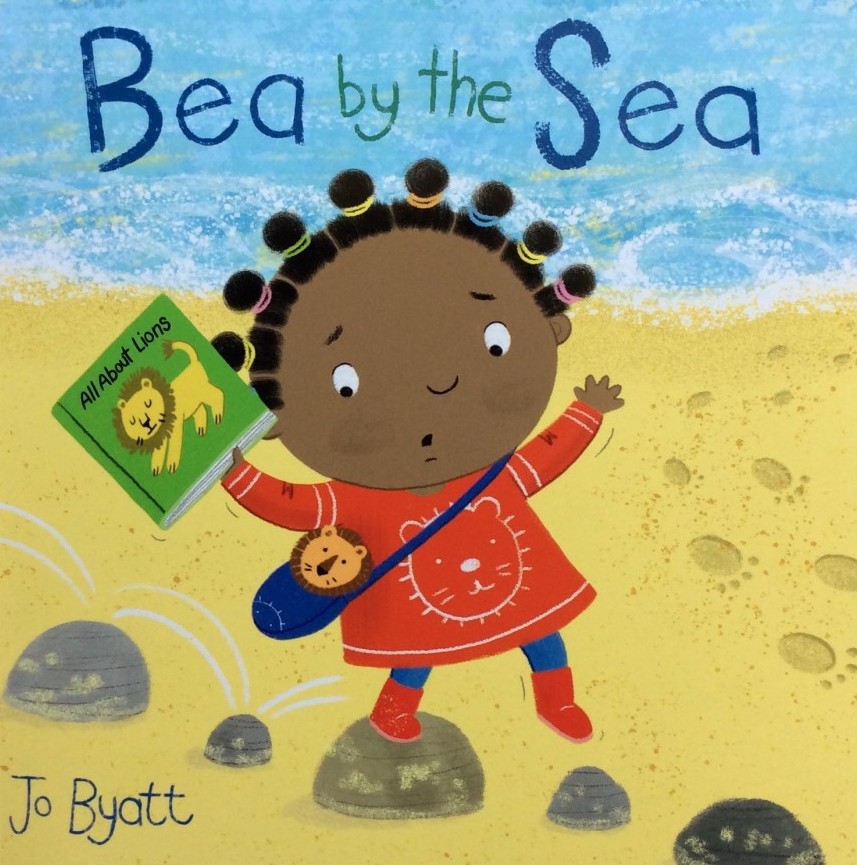 posted on 28 Apr 2021
Bea by the Sea by Jo Byatt
I'm a big fan of picture books about children who have books at the centre of their little lives. The cover of this one shows a little girl at the seaside balancing on some rocks holding a book in her hand, but why does she look rather anxious?
Bea is a girl who clearly loves any book with a lion in it - whether fiction or non fiction -  and the first double page spread shows her in bed surrounded by toys and books on her favourite subject. She is also acknowledged as an expert, which is very unusual.
As the story unfolds we learn that lions are on her mind all day long and I enjoyed spotting more lion themed objects in the vibrant illustrations as she ponders questions like 'Would lions like a bubbly bath'?
But when her mum suggests a trip to the beach, she seems reluctant. Perhaps she feels more secures staying at home?
We soon find out that it is the gritty, sticky, scratchy texture of sand that is the problem. Like many children, this super-sensitivity gets in the way of her enjoying the experience. But she is brave like a lion and resolves to give it a go. She is so preoccupied with avoiding touching the sand on the beach that she doesn't at first notice the amazing animal sand sculptures. When she loses her balance and falls flat on her face, the huge lion sand sculpture comes to her rescue.
Bea and the friendly Sand Lion team up and discover that playing in the sand can be quite good fun.
I loved the sheer exuberance of the two shown making sand angels - the yellow sunshiny colour floods the pages.
But it turns out that Sand Lion does not like water at all - for reasons that can be talked about by young readers. Will they anticipate what might happen as the sea approaches? Bea tries to encourage him to jump over the waves but he doesn't look terribly keen. At the end of the day they wave goodbye - both satisfied with their new found friendship.
There are strong echoes of ' The Snowman' by Raymond Briggs on the following pages when she returns to the beach the next day. Poignant messages about valuing precious moments, dealing with loss, being brave and learning to be resilient can be easily drawn out from this charming story. There are also lots of interesting lion facts on both end papers which add to the content. And there should be plenty of fun follow up opportunities creating wonderful lion paintings and experimenting with the properties of sand and water, whether in a classroom or outside.
I foresee reading this one to my grand children and others who will surely be inspired to attempt a sand sculpture of a lion when next at the beach.
Strongly recommended.
.
Karen Argent
April 2021