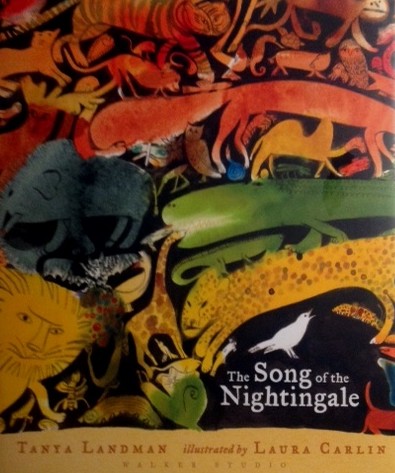 posted on 19 Nov 2020
The Song of the Nightingale by Tanya Landman, illustrated by Laura Carlin
What a treat it is to have a new, sumptuous, beautifully produced book by an author and artist at the top of their game. This collaboration between Tanya Landman and Laura Carlin is a feast that shows that the collaborative process can be a whole lot more than the sum of what two people might produce individually.
Landman's contribution is a new creation myth that tells us – with a nod towards the Just So Stories of Rudyard Kipling – just how the animals got their colour. The world when it was new, we are told, was full of glorious colour but the animals were 'dull and drab' – living in outline, just black and white. And so the great painter had to do something about it – 'SOMETHING MUST BE DONE', it was decided.
And when the painter set to work, the glorious range of brilliantly coloured animals started to appear:
"As the morning went on she slicked stripes on zebras and painted pentagons on giraffes. She popped penguins into sharp suits, and furnished flamingos with feathers of delicate pink."
With hard work all day long, the animals joined the queue to get their colour and as night began to fall the task was complete. Well, nearly complete. One bird that had been nervously hanging back came forward from the trees as the night began to fall and sang with such beauty that the painter was reminded of the splendour of gold. This was the nightingale.
"When the sun goes down and a velvety darkness covers the earth it comes out to sing with its beautiful golden voice."
And, of course, this isn't just a creation myth about the flora and fauna, it's a great big metaphor for the importance of artistic creation and the way in which the artist paints our world into reality.
This is a story that needs big pictures from a talented artist and that's exactly what the wonderful Laura Carlin gives us. At the Letterpress Project we are great fans of Laura's interpretation of Ted Hughes' classic, The Iron Man and we always seek out books she illustrates. Her style is immediately distinctive and her 'paint-box' is vibrant and rich but also subtle and, at times, almost naïve.
This is a fabulous book (in the true meaning of that word) and it would make a perfect Christmas gift for any child and any adult with a soul that's still in one piece.
Terry Potter
November 2020
(Click on any image below to view them in a slide show format)