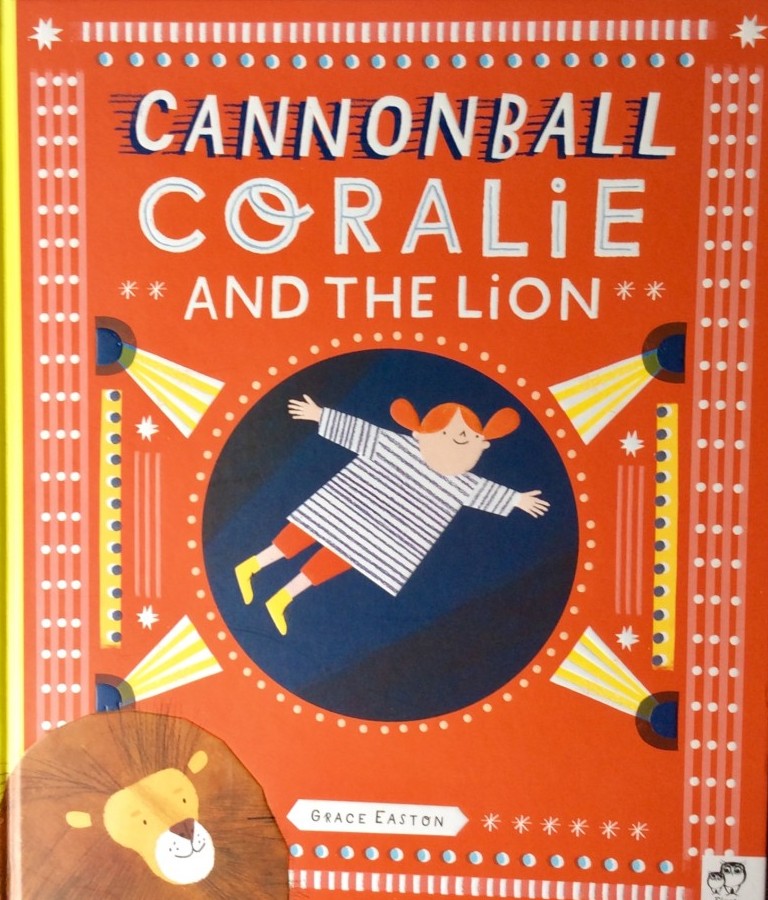 posted on 25 Jun 2020
Cannonball Coralie and the Lion by Grace Easton
I always have a penchant for children's picture books about circuses and ones about lions, so this was a must for my bookshelves. I also loved the promise of a plentiful supply of retro-style illustrations with the boldly coloured poster-like cover. The girl we see on the front is clearly at the centre of the story but the smiling lion looks on from the corner indicating a positive and fruitful collaboration.
We first meet Coralie enjoying lots of outside adventures in the woods. She is a lively girl 'who didn't like rules' and appears to have a wide range of admirable talents, but with no one to see and admire her.  She seems pretty content but is fascinated when she sees a curious parade of circus performers, some animal and some human, march through the trees - and so she decides to follow them. Their destination is a big stripy circus tent which looks very enticing and she is encouraged to explore further by the wonderful friendly lion who offers to show her around. Despite the rather fierce response of the man in charge, Coralie sets out to show off her skills so that she can perhaps join the circus. Her new friend the lion is very appreciative but it seems that she is destined for a particular job, because of her convenient size.
Dressed appropriately, and reassured by the lion, she tentatively climbs into the cannon, ready to be launched as a human cannonball. I loved the cross section of her jammed inside the narrow tube with her arms outstretched – what would that feel like? The extravagant double page spread that follows as she zooms above the crowd of little open mouthed faces , looking determined and strong. Lion looks on anxiously as we see just one huge dramatic word alongside the picture: 'KABOOM'. Lots of potential discussion here about whether she feels excited, scared or proud and what might happen next. I won't spoil the rather unexpected twist to the story other than to reassure you that Lion was delighted, then sad, then indignant and very angry.
The man in charge clearly doesn't know how to treat his workers with care and respect, which opens up more discussion with young readers who, in my experience have very definite ideas about justice.  He certainly gets his come-uppance and Coralie finds that she now has a band of loyal friends to keep her company and make her life richer. Together they form a multi -talented group of free spirits who live happily together in the woods, with not an adult in sight.   
This is an imaginative story with stunning illustrations throughout. I liked the mix of pages with strong colours bleeding right to the edges in contrast to some with lots of white space to accommodate more text. This is a picture book about friendship and community that will resonate with all those who believe that people and animals should be well treated and valued. Apart from these qualities, it is strongly recommended for children and adults who appreciate well designed, beautiful books. 
Karen Argent
June 2020
(Click on any image to view them in a slide show format)