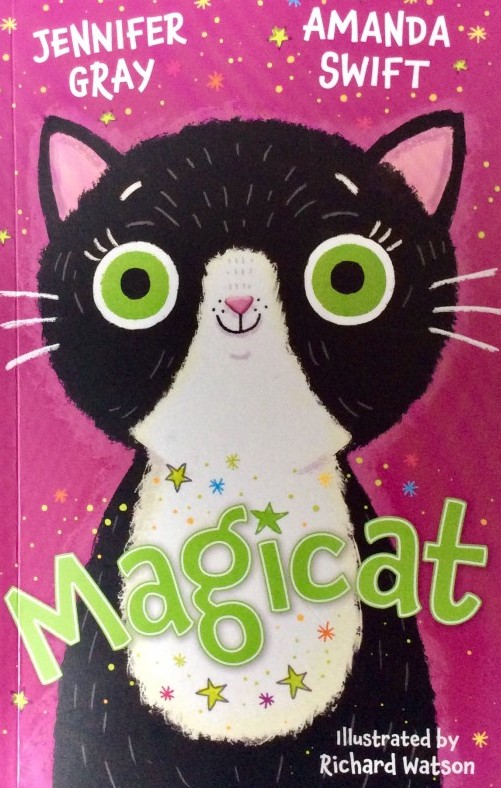 posted on 20 Mar 2020
Magicat by Jennifer Gray and Amanda Swift, illustrated by Richard Watson
Books about magic seem to be ever popular with children and this one published by Barrington Stoke - whose books help emergent, reluctant and dyslexic readers - is guaranteed to add sparkle to the genre. I liked the twist of having Magicat as the main character who arrives in the world when he is knocked off his witch's broom as a result of a stray firework.
The two well-drawn human characters, Jessie and Ali, take good care of him as he awaits Wenna Witch to come to rescue him. Together they make a team that just can't resist doing a little bit of magic.
The story opens with the children enjoying some trick or treating at Halloween and all is going well until they meet Eddie Biggs and his gang who delight in making fun of them. He is certainly a nasty piece of work shown in one of the several  excellent illustrations exactly as described by the authors:
'He had very short hair and a mean look on his face. He wore big black boots and walked along with his hands in his pockets, chewing gum'.  
After taunting them and stealing Jessie's treat bucket, some of his friends let off the stray firework  that causes Magicat to fall from the sky into Ali's treat bucket and the two children are understandably  flabbergasted when he speaks directly to them.  Once they explain all about Eddie, Magicat decides that he and his cronies 'need to be taught some manners' and the scene is set for revenge.
What a treat it is to be able to confront a bully with magic that is set to humiliate and perhaps give cause for reflection!  But at first, Magicat needs to lie low and pretend to be a 'normal' cat, even though that might be rather boring. He enjoys the luxury of a sleepover at Jessie's house and tells his new friends more about his life in Magic Land where he and other cats work hard to learn about spell making. Luckily he has his book with him so that he can keep up his studies but still needs to send a letter to his witch so that she can rescue him as soon as possible.
In the meantime he tries to impress the children with some novice magic that predictably goes a bit wrong – I particularly enjoyed the illustration of the chaos in the kitchen when honey and ice cream pancake making is a disaster.  It seems that he is very enthusiastic to impress, but doesn't yet know how to stop spells once they have started.
Things start to go even more badly wrong when Eddie spies on the magic making trio and wants a piece of the exciting action – he is determined to have Magicat for himself.  What follows is an energetic episode that is described as vividly as a slapstick cartoon chase and makes Magicat even more determined to teach Eddie a lesson. And so the mayhem continues resulting in a very mean looking hairy spider appearing in Jessie's bedroom.
Will he ever be changed back into a boy and is there a way to make him kinder?
 I will leave it to you to read and discover how this imaginative and funny little story unfolds.
Karen Argent
March 2020