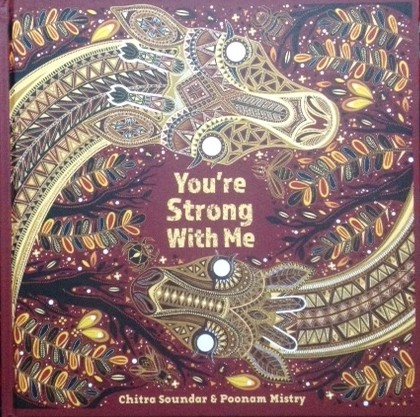 posted on 04 Oct 2019
You're Strong With Me by Chitra Soundar & Poonam Mistry
The creative partnership of author, Chitra Soundar, artist, Poonam Mistry and publisher, Lantana have delivered another outstanding picture book story to take its place alongside You're Safe With Me and You're Snug With Me.
This time we're alongside a newly born young giraffe who is learning the lessons of life and survival in the company of its mother who punctuates her words of wisdom with reassurances that despite all the potential dangers and pitfalls, "You're strong with me".
And there's plenty for the baby giraffe to discover and to learn. The first is to stay close and not to wander off; then, know who your friends are, even if they are not other giraffes but birds that will clean your hide as you grow older. Fire can be a killer but on the grasslands it can also be a creator, clearing away the old dead undergrowth and enabling vibrant growth and new life.
Just learning how to drink safely is a vital lesson and fraught with potential danger – not least for a beast like a giraffe who has to beware of toppling into the waterhole if you're a bit clumsy and unsure of yourself.
The book carries a simple but strong message - there's a lot for the youngster to learn about the world, whether you're a giraffe or a human child, and there's plenty that can go wrong. It would be easy to let anxiety get the better of you unless you can rely on an adult carer who will be able to tell you, "You're strong with me".
The beauty of this book doesn't just rely on the sensitivity and subtlety of the story and the words but on the stunning illustration and design. Poonam Mistry's beautiful and often symmetrical designs are both intricate and visually stunning. The colours glow off the page with a rich blend of ox-blood reds, golds and browns creating patterns and pictures that can be explored repeatedly without ever exhausting their possibilities. Mistry also uses punctuations of white and, when water needs to be illustrated, swoops of blue that positively leap off the page.
As with the previous books in this series, if you buy this you're buying a complete work of art and not just a book. If you've seen the others, you'll certainly want this one but if you're coming to it afresh, be prepared to dip into your pocket for the ones you've missed.
Terry Potter
October 2019
(click on any image to view them in a slide show format)