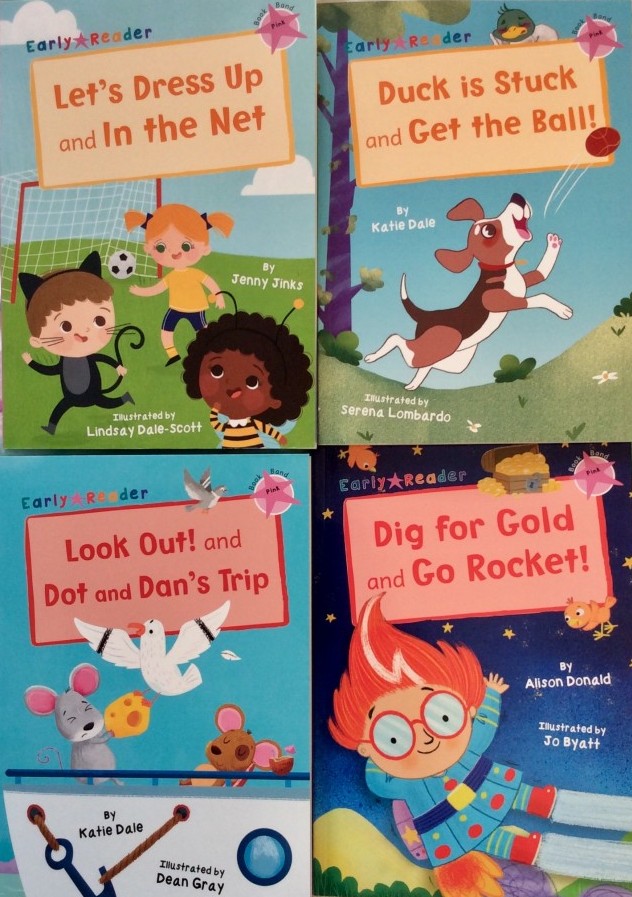 posted on 23 Sep 2019
Maverick Early Readers
I find this series to be refreshingly upbeat and eventful compared to many other Early Reader books. I have reviewed a few of them previously and was delighted to recently receive another batch from Maverick Arts Publishing Ltd., this time from the pink band of guided reading capability, described as 'decodable at Letters and Sounds Phase 2'. It is good to see that their philosophy of providing well designed, inspirational picture books still underpins these 'educational' texts. There are two short stories in each little book, each with an emphasis on a particular letter shape plus key vocabulary, high incidence words and reinforcement activities before the story itself. The plentiful, energetic and colourful illustrations contribute to the stimulating reading experience and also leave spaces for imaginative and curious young children to ask questions. I was able to test them out with my four year old grand daughter who started school this term and she really loved them. Here is a flavour of the content of two from the batch:
Dig for Gold and Go Rocket by Alison Mc Donald, illustrated by Jo Byatt
We enjoyed reading about Pat the Dog and his quest for the treasure using a map. Every page has lots to look at and the pictures work together with the text to tell a funny story. The second story has an unconventional central character who is clearly passionate about exploring space. We practised all the words beforehand and then read both stories several times together. She then asked to read it all by herself and beamed with pleasure as she successfully spelled out most of the words without help. I would imagine that this very positive experience of a reading book will help her approach the ones that will be soon sent home in her book bag.
Lets Dress Up and In the Net by Jenny Jinks, illustrated by Lindsay Dale- Scott
Most children have fun dressing up and the cardboard box in the first story is packed with intriguing costumes that Sam, Tim, Kit and Nick enjoy wearing. But when poor Megan goes to choose, she discovers that the box is empty! As all imaginative children and adults know, this is not a problem at all and so she ends up with what is probably the best costume of all. The second story was a winner for us because it showed a group of happy children playing football together, even a girl wearing glasses is included which is probably rare. As with all the stories that depict people there is a consistently good mix of ethnicities throughout. We particularly liked this one because it was eventful and even made us laugh at the end when the ball had to be rescued from a pond using a very different kind of net from the one between the goalposts.
Learning to read can be a tricky skill to acquire and it takes many children a long time to become confident. Reading books used in schools and sent home for reinforcement are much more interesting than they ever used to be even though many of is learnt using the tedious 'Janet and John' books and similar series where nothing remarkable ever happened. Some schemes are better than others and so I would strongly recommend trying this new series of books to help to make it an enjoyable experience.
Karen Argent
September 2019