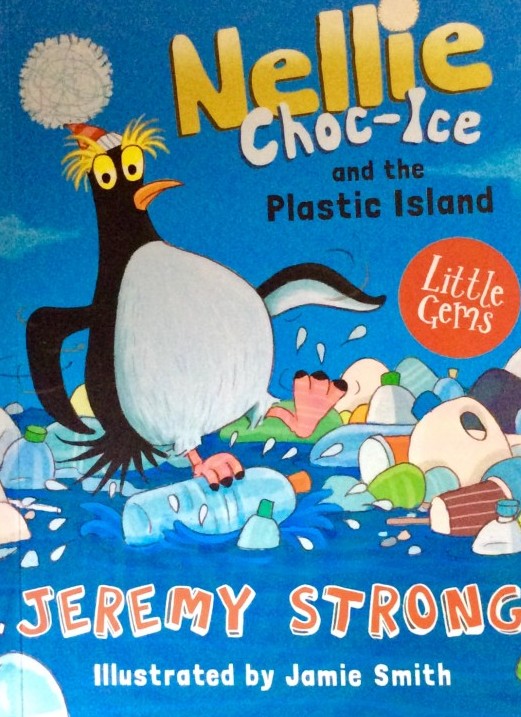 posted on 11 Sep 2019
Nellie Choc-Ice and the Plastic Island by Jeremy Strong, illustrated by Jamie Smith
This is the third exciting adventure for the intrepid but accident prone Nellie, the Macaroni Penguin. Anxious to help the long suffering crew of the submarine escape from New York harbour where the vessel had foundered due to one of her sillier mistakes of using fish instead of diesel oil in the fuel tank, she makes another ill- judged decision. The fish problem has been sorted but, because she can't read, she mistakenly presses the 'Torpedo' button which launches an attack on the Statue of Liberty!  A rapid escape is commanded by Captain Beardy–Beard, who is absolutely furious and 'could only think of rude words to say, so he hid them away in his beard where nobody could hear them'.
The journey back towards Nellie's home in the South Pole continues beneath the sea for a week but when the submarine eventually surfaces, the crew is faced with a big problem – and just for a change it has nothing to do with their Penguin passenger. They seem to be stuck fast on an island of plastic rubbish that stretches as far as the eye can see, vividly described by the Captain as ' a filthy , disgusting disaster'!  The ever plucky Nellie offers to try to release them as she is the best swimmer.
The rest of the story makes the important point about the extensive effects of plastic pollution and the responsibility of everyone to do something about it. In the short term, Nellie rescues an albatross that is caught up in some plastic netting who tells her about all the hundreds of dead fish and a whale that she has seen on her travels.
I like the way that the author tempers the serious and timely message of the book with some humour as the Penguin tries to explain the definition of a submarine to the Albatross, who is very confused about where she is being taken. Once they have arrived back, everyone discusses what should be done to get things moving again. Nellie bravely offers to dive underwater a second time to free the propeller and once she has done this, incidentally freeing a trapped dolphin, they set off for the nearest land and arrive at Rio de Janeiro ( a map is very informative at this point).    
 All the crew are now fired up to do something meaningful to stop the use of plastic and Captain Beardy- Beard arranges some very important meetings with important people from every county in the world.  For the umpteenth time I reflect on how real life might learn from children's books and I daresay that younger readers will be puzzled as to why this doesn't happen. Adults need to be well prepared to answer some searching questions after reading this story about such a passionate environmental campaign.
Nellie is a loveable character who, despite being clumsy, always means well and is keen to help solve problems, rather like Paddington Bear. When she eventually arrives back home, her parents glow with pride at her achievements and reward her with a big party enjoyed by all the penguins. The plentiful illustrations are an essential part of the story because they show lots of colourful detail. Children will be inspired to draw their own interpretations of life under the sea as well as what it is like living on a submarine in very crowded circumstances. This story is another triumph for the Little Gems series of books by Barrington Stoke, publishers who play such close attention to overall design that they are always a pleasure to read. 
Karen Argent
September 2019