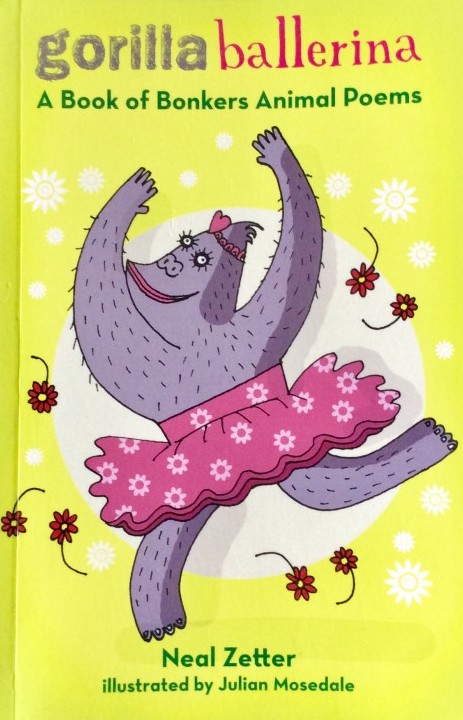 posted on 09 Sep 2019
Gorilla Ballerina by Neal Zetter, illustrated by Julian Mosedale
Anything about animals seems to be a winning formula, so this little book will doubtless be very well received. The author is a comedy performance poet who is a passionate advocate for using poetry to enthuse children and has already published several well received books. Each snappy poem in the collection has a delightful illustration to amplify the humour.
There is a huge variety of lively raps and clever rhymes to choose from, so I will select just four of my personal favourites to entice you. I really have to start with the title poem that is so aptly illustrated on the book cover. The naive representation of a cheerful hairy gorilla wearing makeup and a pink tutu shouts out that 'anything is possible if you really want to do it'!' She is thoroughly immersed in the joy of dancing and you can almost hear the applause as she thunders across the page with a blissful facial expression:
'In tutu or dress
She'll always impress
Revealing her much softer side, not beating her chest
 You'd think she'd be mighty, powerful and stronger
But she's into ballet (and tango and conga)'
I was especially looking out for poems about creatures that don't often get written about in children's books so was very pleased to find W.A.S.P. that gives an assertive perspective from the much hated insect. He just doesn't care about his bad- boy reputation, in fact he is rather proud of it:
'See me hover, see me flutter
I'm the nutter in your butter'
And how about one featuring an armadillo? I love the idea of speculating about what kind of animal would be the most comfortable one to rest on in 'My Armadillo Pillow':
'A cod could be quite slimy
A lion cub would roar
A monkey's far too funky
A piglet's prone to snore'
I foresee gales of laughter from children as well as inspiring lots of their own ideas for the pros and cons of using other creatures. Again, the excellent cartoon illustration on the facing page shows just how strange an experience it might be.
I would bet that you have never thought about the problems that an Anteater might have if he didn't like ants? The picture shows a very fussy looking animal, arms folded with a disdainful expression clearly refusing to eat from a box of Ant flakes. Like plenty of children, he is not to be persuaded to eat something that he doesn't want to eat, no matter how it might be presented:
'Won't eat ants in Dijon mustard
Dipped in cold vanilla custard
Won't eat ants in crispy batter
Ketchup won't improve the matter'
I could give so many more examples but recommend that you read a copy for yourselves - I can guarantee that you will giggle. If you like similar fare from the likes of Spike Milligan and Michael Rosen, then this one is for you - I am very much looking forward to sharing it with my grandchildren.
Karen Argent
September 2019